UK population 'to increase to 70 million by 2027'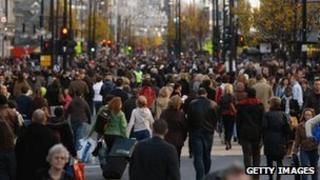 The population of the UK is on course to reach 70 million over the next 16 years, official figures suggest.
The Office for National Statistics (ONS) said it was set to rise from 62.3 million in 2010 to 67.2 million by 2020 and 73.2 million by 2035.
It says just over two-thirds of the projected increase from 2010 to 2035 is either directly or indirectly due to migration.
This will be due to people entering the UK, and also their future offspring.
The ONS statistics say this change may be 47% directly attributable to future migration and a further 21% indirectly due to future migrants' children being born in the country.
The effect of immigration is also expected to have an increasing impact.
Some 2.1 million (44%) of the increase over the next 10 years could be down to net migration, the ONS added.
The remaining 2.8 million (56%) is a projected natural increase as a result of births outstripping deaths.
Of the 10.9 million rise by 2035, 5.1 million (47%) is expected through migration and 5.8 million (53%) from natural increase.
Projections for net immigration have been revised up by 20,000 to 200,000 a year since the last estimates two years ago.
The ONS predicts 15,500 of this increase would be in England, 5,500 in Scotland and 500 fewer in both Wales and Northern Ireland.
The projected UK population by 2020 is 0.7 million (1%) higher than the statistics suggested two years ago.
The ONS report said: "The 2010-based projections assume an extra 0.5 million births and an additional net gain of 0.3 million more migrants countered by 0.1 million more deaths."
The average age of people in the UK is also set to rise from 39.7 years in 2010 to 39.9 years in 2020 and 42.2 years by 2035.
The number aged over 85 is expected more than double over 25 years from 1.4 million in 2010 to 1.9 million by 2020 and 3.5 million by 2035.
Those people aged 90 and above is projected to more than triple by 2035, and the number aged at least 95 is projected to more than quadruple.
The number of centenarians is set to rise from 13,000 in 2010 to 110,000 in 2035, an increase of more than eight-fold, said the ONS.
'Continue unabated'
The government has said it wants to cut non-EU immigration from about 200,000 to "tens of thousands" by 2015 through an immigration cap.
Immigration Minister Damian Green said: "Immigration to the UK has been too high.
"That's why we have made sweeping changes to get a grip on immigration in this country, closing down routes subject to abuse and taking action against those with no right to be here.
"Much has been done, but there is more to do to bring down net migration to the order of tens of thousands a year and ensure migration which benefits the UK."
Sir Andrew Green, chairman of campaign group Migration Watch UK, said: "These figures confirm that the UK's dramatic rise in population will continue unabated.
"As people return home this evening crammed into public transport and on congested roads, they could well ask where all of these people are going to fit."
Habib Rahman, chief executive of the Joint Council for the Welfare of Immigrants, said: "The most pressing problem facing the UK at present is the growing disparity between the working-age population and pensioners - if we do not act to reduce this Britain faces economic stagnation and deprivation.
"A managed migration policy can be a major part of the solution to the problems the UK faces."