Scrap unfair dismissal claims for lazy workers - report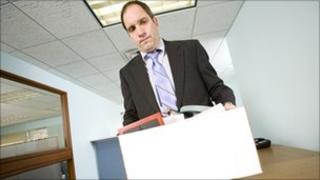 Unproductive workers should lose their right to claim unfair dismissal, a leaked government report says.
The report - commissioned by the prime minister - argues this would mean more capable people would replace those sacked, boosting economic growth.
The Daily Telegraph quotes the report as saying that under current rules workers are allowed to "coast along" with some proving impossible to sack.
Downing Street says changes to unfair dismissal rules are "unlikely".
Currently, workers who feel they were unfairly dismissed can make a claim after 12 months in a job.
The report - which has not been made public - was written by Adrian Beecroft, a venture capitalist and Conservative Party donor.
The coalition government has previously stated it is committed to reforming employment laws. Chancellor George Osborne recently announced new measures aimed at restricting the number of unfair dismissal claims.
He announced that, from April 2011, an applicant must have been in their job for at least two years before being able to make a claim for unfair dismissal.
'Coasting' staff
However, Mr Beecroft's report goes further - calling for an end to unfair dismissal, a regulation that the report's author thinks is particularly abused by some in the public sector.
A draft seen by the Daily Telegraph warns that incapable workers are being left to "coast along". Firms also fear expanding because new staff may prove "unknown quantities" who are impossible to sack.
The newspaper says a final draft of the document, dated 12 October 2011, argues the first major issue for British enterprise is "the terrible impact of the current unfair dismissal rules on the efficiency and hence competitiveness of our businesses, and on the effectiveness and cost of our public services."
It reports the document as saying: "The rules both make it difficult to prove that someone deserves to be dismissed, and demand a process for doing so which is so lengthy and complex that it is hard to implement.
"This makes it too easy for employees to claim they have been unfairly treated and to gain significant compensation."
Mr Cameron and others in the cabinet are considering the recommendations.
But Downing Street sources told BBC political correspondent Robin Brant no decisions had been made, and added it was "unlikely we would go further on unfair dismissal".
Lib Dem Norman Lamb, who is Nick Clegg's chief of staff, said it would be "madness" to bring in Mr Beecroft's proposals.
"If every employee in the land faced the prospect that they could be removed arbitrarily, the destabilising effect could be devastating," he said.
Shadow business secretary Chuka Umunna told BBC News: "We've got 2.57 million people unemployed in this country.
"I find it absolutely extraordinary that the government should be preoccupying itself with how it can make it easier to fire people when in that context it should be looking at how it can make it easier to hire people."
'Profoundly unjust'
Unions have attacked the report, warning that the move would "horrify" workers.
Sarah Veale, head of the equality and employment rights department at the TUC, described the proposals as "profoundly unjust" and said Mr Cameron should "throw the report straight in the bin".
"We think it's offensive to huge numbers of hard-working people and actually I would also think it was offensive to the majority of employers who treat their staff fairly," Ms Veale told BBC Radio 4's Today programme.
She went on: "I really do wish that the government would stop going on about how if you reduce employment protection laws somehow that will make the economy boom again and create growth - it's absolute rubbish."
There were less than a million unfair dismissal claims last year which was "absolutely nothing" out of a large workforce, said Ms Veale.
TUC general secretary Brendan Barber said: "The clue is in the name. Employers already have plenty of powers to make fair dismissals.
"Giving them the right to act unfairly may go down well on the back benches, but will horrify employees."
Paul Kenny, general secretary of the GMB union, said the report showed the true face of the "nasty" Tory Party.
John Philpott, chief economist at the Chartered Institute for Personnel and Development, said the changes would be counterproductive and would not address the real problems.
"If you look at the evidence on unfair dismissal, I mean there isn't actually anything to suggest that watering down those rights would create any more jobs and indeed the job insecurity it would create would actually be bad for the economy and businesses.
"I think if you look at our productivity problem, it's down to poor investment, poor training and poor management."
In 2010-11 the cost to the taxpayer of running employment tribunals and the Employment Appeal Tribunal in England, Wales and Scotland was more than £84m, according to the Ministry of Justice.
The Treasury said that more than 80% of applications made to an employment tribunal did not result in a full hearing.
Almost 40% of applicants withdrew their cases, but employers still had to pay legal fees in preparing a defence, it said.