M25 turns 25: Share your memories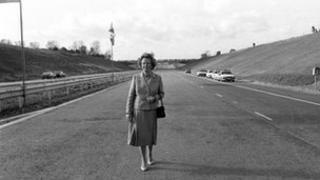 The M25 will be 25-years-old on Saturday 29 October. How has the motorway changed your life?
The 117-mile (188km) orbital road took more than 11 years to build. It cost £1bn, and used more than two million tonnes of concrete and 3.5 million tonnes of asphalt.
The final section was opened by Prime Minister Margaret Thatcher in October 1986 to a huge fanfare.
Twenty five years on, we want your magical memories of the M25.