Blueprint for speeding up adoption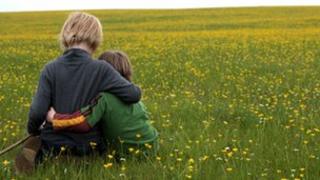 The government wants adoptions speeded up so children spend less time in care. One council in London is leading the way.
A child waits two years and seven months on average to be placed with a new adoptive family.
But in Harrow, all children are matched within six months, on average four.
Now it is being heralded as blueprint which others should follow, as there has been a 5% drop in the number of children adopted in England since 2010.
The government has made adoption a top priority, with David Cameron describing the barriers couples can face as a "scandal".
Swift matching
Harrow began to improve its service after it went into partnership with children's charity Coram in 2006.
Now it has access to Coram's pool of prospective parents, around 60 at any time, with three of the charity's employees working alongside the council's child protection team.
Their approach focuses on early intervention and swift matching of children to families. They are aware of cases and begin to look for matches long before they get to the adoption stage.
It means that when that decision is taken, a family is ready straight away.
Meanwhile, newborn babies go to foster carers while the birth parents are being assessed, a system called concurrent planning pioneered by Corum.
If it is decided the baby is not to return, the fosterers become the adopters, which means the child is not moved around during its key developmental stages.
"It's very effective and means they have a good stable start," says Peter Tolley, adoption placement manager at Harrow Council.
"It is difficult for carers if the child does go back home. But the risk is with the adult, not the child, it's really all about the child and it's a real benefit for them to stay in one place. We want to be child-centred."
In many other cases, the child is put in care while a local authority determines long-term plans. This can be quite drawn-out, with various different assessments and stages during which a child can be moved a number of times.
'Just uplifting'
Speeding up the system was a key recommendation in a report by Martin Narey, the government's adoption adviser, which he wrote for the Times newspaper in July.
Mr Narey, the former head of Barnardos, who visited Harrow recently, described its approach as "just uplifting".
"It's fantastic. At Harrow they've just gripped the whole thing of adoption. They don't have a single child waiting for adoption who is not already with adoptive carers.
"That's where it's going wrong in most of the rest of England; you find that's rarely the case - as a child is cleared for adoption, they are then waiting for a placement."
He says the success is due to leadership, the council making the issue a priority and being brave enough to go into partnership with another organisation.
Coram has recently started working with Cambridgeshire County Council. But in his report, Mr Narey says authorities have been cautious as they feel start-up costs, such as the need to hire more social workers, are too great at a time of budgetary restraint.
And the approach is saving Harrow £440,000 a year by removing children from the care system.
"I was in the public sector for 30 years and I know what it's like, juggling budgets. But you don't come across many things which save money and are better for children," he says.
'Scandal'
Another criticism levelled at the adoption process is the rigid rules which see many would-be parents refused.
Historically, social workers tried to match children with parents of the same ethnic background, but statistics show Asian and black children were only 4% of the total number of children adopted last year.
George and Mari Stavrinidis were initially told in 2006 they were unlikely to be matched with a child because he is Greek and she is Finnish. They later adopted a son, who is now four and a half.
"It's ridiculous. We would have considered going abroad as a last resort, but it's wrong when you're almost alienating couples who want to adopt in this country," Mr Stavrinidis, 44, says.
It is a situation which the government now hopes to avoid. Education Secretary Michael Gove - who was adopted at four months - has put guidelines in place to ensure ethnicity is no longer a barrier.
But Mr Stavrinidis says that from anecdotal evidence he has heard, he fears the new policy has not yet filtered down to the ground.
Harrow's selection is handled by Coram which tries to approach matching children to parents in a holistic way, rather than a rigid, tick-box approach.
Yet they also say they have to be realistic - many people want to adopt babies while most children available for adoption are older, and have siblings or problems.
Mr Tolley explains they go through the list of a child's needs - health, education, family past, religion, culture, then use that to try and identify the best family.
"We don't go for the ideal family, but the best family available at that time," he says.
The partners then offer financial and practical support to help that family. And it seems to work; the partnership has not had any cases of adoption breakdown in five years.