London 2012: Olympic cycle and walking routes improved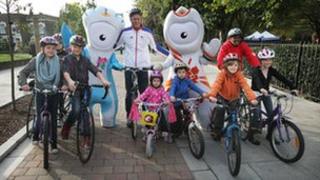 Olympics organisers have improved cycle and walking networks around London venues to encourage spectators to take the healthy route to the Games.
Improvements have been made on eight routes of the London Greenways network around the Olympic Park and river venues, at a cost of £10m.
Some 300,000 spectators are expected to cycle and walk to Games venues in London next summer.
The changes include better paving, new cycle crossings and new lighting.
The improvements - which affect 75km of East London's cycle routes and include the provision of 7,000 bike parking spaces at the Olympic Park alone - were conceived by charity Sustrans and funded by the Olympic Delivery Authority (ODA).
They come in anticipation of an extra one million journeys a day being made by foot and bike in London next summer.
Transport for London has published a map highlighting Olympic walking and cycling routes, which is available to order online.
Active travel
The improvements are to the following routes:
Lea Valley North - north of the Olympic Park through the Lee Valley Regional Park
Epping Forest - a new route north-east of the Olympic Park through Wanstead and Epping Forest
Elevated Greenway - following the route of the northern outfall sewer east from the Olympic Park to Beckton
Lower Lea and The Royal Docks - south of the Olympic Park to the Isle of Dogs, and on to Maritime Greenwich and other River Zone venues via the Thames Path
Limehouse Cut - from Limehouse Basin to the Olympic Park along the Limehouse Cut
Victoria Park and Stepney - connecting the Olympic Park to Islington and Limehouse Basin along the Regent's and Hertford Union Canals
Hackney Parks - connecting green spaces in Hackney from Finsbury Park to the western entrance of the Olympic Park
Greenwich - following the route of the Thames Path connecting Maritime Greenwich with the North Greenwich Peninsular and Woolwich
Along with the London Organising Committee for the Olympic and Paralympic Games (Locog) and TfL, the ODA on Monday launched the London 2012 Active Travel programme - a scheme designed to increase the numbers of people cycling and walking before, during and after the Games.
Locog's Head of Sustainability David Stubbs said organisers and local authorities were working together to encourage people to cycle or walk to the Games.
"We also want to use the power of the Games to inspire people across the UK to take up more active travel, starting from now and all the way through to the Games and well beyond," he said.
Five-time Olympian Mark Foster, who was in Hackney for Monday's launch of the scheme, said: "I live in London and always use my bike to get around, and so I'm really impressed that the cycling and walking routes leading to the Olympic Park are in place well ahead of next summer for people to make use of now."