Choose Youth rally: 'Cuts are causing failing generation'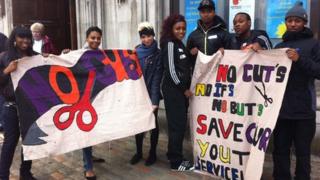 Young people from across the country have staged a protest in London over cuts to youth services. We ask the demonstrators why they took part and how the cuts are affecting them.
They came from far and wide, and in their hundreds, and they had only one message for the people in power: "Save our services."
More than 1,000 teenagers descended on the grand setting of Westminster's Methodist Central Hall to rally against council cuts to the parts of their lives that they value the most.
From youth clubs to counselling services, and adventure trips to art classes, they spoke passionately about why cuts to young people's services were unfair and disproportionate, and why they would - not just could - hurt Britain's future.
And on the verge of being old enough to vote, these youngsters demand to be heard - or else, they say.
The protest came on the day a report by the Unite union suggested that the amount councils in England and Wales were spending on youth services is falling and as the Institute for Fiscal Studies said education spending was falling at its fastest rate since the 1950s.
Many spoke of how they felt they were getting a raw deal from the current government but could not understand why.
Time and time again they used the phrase "we are the future" - but it is clear that many of these youngsters feel their life chances are being badly dented. Others expressed the alarming view that the cuts were to blame for turning them into a "failing generation".
Without somewhere to learn life skills and to grow as individuals, such as a youth club or an after-school club, they say the young people of today are destined to fail.
Others say they fear Britain could see a repeat of August's riots - but on an even wider scale - unless people their age have enough to do.
Friends Carlton Campbell, Tyrone Solomon and Deyontae James, all 17 and from Wolverhampton, said their message to those in power was that they did not deserve to be "unfairly targeted".
"I think they're cutting young people's services because we're easy targets - because we can't vote and we can't hold them to account," explains Deyontae on the steps of the church.
"Good point" nod the others in agreement. Their friend Chandel Neadham, 16, joins the crowd and interjects: "The government always complain that all young people - us - are out committing crime or on the streets, but if they're going to close our youth services, where do they expect young people to go?"
Carlton says Prime Minister David Cameron should be "here today to have a debate about the cuts".
"Think about the riots - where was he when the riots were happening? What did he do? We're here trying to help and he should be too."
'Out of trouble'
Wearing black "Save Birmingham's Youth Services" T-shirts, another group of teenagers are quick to attract attention.
Nickisha Sutton, 16 and Demi Beddow, 14, and Harry Matthews, Stephen Bradley-Docker and Shaun Guesford, all 15, explain they are in London to safeguard the future of their youth club, Falcon Lodge, that has been around "all our lives" and that they go to "pretty much every day".
The club was earmarked for closure in March, but thanks to a campaign it is safe - only for now.
"I don't understand why they're closing these places," says Nickisha, who hopes to be an Army mechanic.
"They talk about gangs on the streets and giving people something to do - this is a place where we can go and keep out of trouble. They're going back on what they've said."
And Stephen echoes the sentiments of the group from nearby Wolverhampton.
"It seems like the government is being a bit stupid. At the next election we will be able to vote and we will remember what has happened and won't be voting for them," he says, as the others vigorously nod heads in agreement.
He adds: "We're being labelled as the failing generation and if they're closing our youth services and we can't get jobs that's exactly what we'll become."
'Why is this happening?'
Many of the young demonstrators were meeting their MPs following the rally and this group were all set to give Sutton Coldfield MP Andrew Mitchell a grilling.
"We're going to ask what he thinks about the youths (involved) in the riots; about the cuts and about what he thinks of the label of the failing generation," the group adds collectively.
Back inside the church, Thomas Ryan-Moulder, 16, says the cuts have the potential to be "devastating" to his home city of Coventry. He and his friends are still waiting to hear which areas will bear the brunt of the council cuts.
"It's not fair that everything is happening so quickly and all at once, and young people just feel that they don't really know why this is happening," says Thomas, who regularly volunteers with a service for younger children.
"(There were) cuts to EMA (Education Maintenance Allowance) and (now) cuts to youth services - but there's no reason behind why youths should be targeted so harshly."
He adds: "This is going to have a long-term effect on our future society."
Georgina Mills, 17, a music student, attends Bevanteen Bulletin, a group that produces a quarterly newsletter by and for young people in Bevan Dean, Brighton.
Funding for the service, including its three youth workers and the various sessions they hold, stands at about £15,000 per year.
Youth worker Adam Muirhead, 26, whose job is under threat, says the cuts are "disproportionately affecting young people" and he is worried about their futures.
When asked about her future study, Georgina is unsure. She says she would like to go to university to study music and performance but might end up having to get a job instead.
"I'm worried because it's so expensive," she says.
"We don't even get the EMA at college anymore - that's what made me go to college. I had to move to a college that was close enough to walk to (because of that).
"I completely disagree with what the government is doing and something needs to be done about it. Too many kids need help to get off the streets and they're not making it any easier for us."
Danielle Gooch and Adam Goddard, both 14, and from Luton, are quick to point out that their area was free from the rioting in the summer because they have services for young people.
If some services are lost, as is being proposed, it might not be the same story in future, they warn.
"I'm here today because if our youth club closes we won't have anywhere to go and - I don't want it to close because it's very important," says Adam.
'We are tomorrow'
Meanwhile, Tom Juggins, 15, from a small village in Gloucestershire, knows the bitter reality of losing a much-loved youth club - his closed earlier this year.
"We're not worth as much as other people, we get the smallest portion of resources," he says.
"(The cuts) are going to make more young people misbehave if they haven't got anywhere to go."
His friend Jordan Day, also 15, cites a Unite survey released to coincide with the rally that showed each council in England and Wales spends 28 pence per young person per day on services for young people - a drop of 12% on the past year.
"It's shocking - it's not much," he says.
He likes the concept of teenage advisors being involved in government decisions that affect young people.
"If they could see it through our eyes then maybe they would understand," he says.
Year 10 student Cameron Taylor, 15, is from Birchington, Kent, where two local youth clubs are closing - one has just had "lots of money" spent on it - a state of affairs that is lost on him.
"(The youth clubs) are really important because they're helping us lots. Surely it's better (to spend on this) than the thousands of pounds being spent to bail the banks out," he explains.
"We should be their highest priority because we are tomorrow. We are the future."