Wife murderers in 'loss of control' Appeal Court bid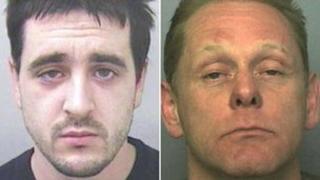 The Court of Appeal is being urged to overturn the convictions of three men who killed their wives, in the first appeals after a change to murder laws.
The judges are being asked to interpret new legislation which came into force in England and Wales in 2009, replacing the defence of provocation with "loss of control".
The men were convicted of murder despite claiming "loss of control".
The hearing is due to last for two days with judgement expected to be reserved.
'Difficult'
The act abolished the common law defence to murder of provocation and replaced it with the new defence of "loss of control".
Lord Chief Justice Lord Judge - one of three judges who will decide the case - said it was a "difficult" new law, "which needs to be interpreted".
The three appeals are from separate cases which were dealt with at different crown courts earlier this year, but are being heard together as they raise similar issues.
One of the challenges is by Steven Parker, 25, of Scunthorpe, North Lincolnshire, who was convicted by a jury at Hull Crown Court of the murder of his wife.
Cup of tea
He claimed he acted under provocation - admitting manslaughter on the grounds of "loss of control".
Former miner Dewi Evans, 62, who stabbed his wife during a row over a cup of tea, is also appealing against his conviction.
He was found guilty at Swansea Crown Court of murdering wife Jackie, 57, at their home in Pontyberem, Carmarthenshire.
Evans admitted manslaughter, claiming a temporary loss of control when he stabbed her.
The third challenge is by Jon-Jaques Clinton, 45, from Bracknell, Berkshire, who was found guilty at Reading Crown Court of murdering his 33-year-old wife Dawn, who died from head injuries and asphyxia.
Clinton, who is serving a life sentence with a minimum term of 26 years, is the only one of the three appellants present for the hearing in the dock of the London courtroom.
His barrister Michael Birnbaum said that in Clinton's case the trial judge withdrew the defence of loss of control from the jury.
In the cases of Parker and Evans, that defence was left to the jury to decide upon.
Lord Judge - sitting with Mr Justice Henriques and Mrs Justice Gloster - said the court will reserve its decision to a date to be fixed.