Vatican inquiry into Ealing Abbey child sex abuse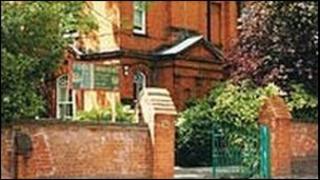 The Vatican has ordered an inquiry into child sex abuse at an abbey and school in west London.
In 2009 Father David Pearce, the former head of St Benedict's School in Ealing, was jailed for eight years for abusing five students.
Following further abuse claims, a team sent by the Vatican visited the connected Ealing Abbey where some monks accused of abuse still live.
A report from the visit will be sent to the Vatican for possible action.
Liberal Democrat peer Lord Carlile is close to finishing a separate inquiry into the abuse.
He is due to publish his findings later this month.
Missing abbot
The inquiry was ordered after a report published last year by the Independent Schools Inspectorate found there were shortcomings in school policy in regards to its child safety policy and noted six sets of allegations involving former teachers and monks who no longer teach at the school.
The apostolic visitation by the Congregation for the Doctrine of the Faith last month was led by Bishop John Arnold, an auxiliary Bishop of Westminster, and Father Richard Yeo, president of the English Benedictine Congregation.
A spokesman for the Diocese of Westminster said: "The effective safeguarding of children and vulnerable adults is a priority for the Catholic Church, and Ealing Abbey's safeguarding policies and procedures formed part of the remit of the apostolic visitation."
Father Lawrence Soper, 80, former Abbot of Ealing Abbey, is being sought by police after he did not answer bail last week.
Fr Soper, who is wanted over alleged child abuse, is thought to be at a monastery in Rome.
St Benedict's School admits pupils aged four to 18 and has a mixed sixth form.
Famous alumni include Chairman of the BBC Trust Chris Patten and comedian Julian Clary.