Legal highs need more controls, say drug council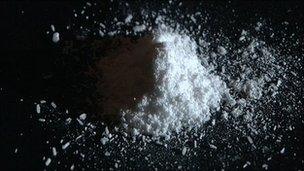 The sale, supply and impact of so-called "legal highs" should be more controlled, the government's drugs advisers have recommended.
The Advisory Council on the Misuse of Drugs said stricter laws, more research and awareness were needed to curb them.
The drugs, including bromo-dragonfly and MDPV, are often marketed as plant food to evade regulations.
Council chairman Les Iversen, said: "It's not just a nice party drug but something that can kill."
Launching a report into the spread of the drugs, he said: "We want the government to do all it can to combat the sale, supply and harms of so-called 'legal highs'."
The marketing and sale of "novel psychoactive substances" - or legal highs - is often designed specifically to avoid legislation under the Medicines Act 1968, with drugs often marketed as "not for human consumption".
Prof Iversen said: "Users are playing a game of Russian roulette. They are buying substances marked as research chemicals. The implication is that you should do the research on yourself to find out whether they're safe or not.
"This is a totally uncontrolled, unregulated market."
The Home Office describes legal highs as drugs which mimic, or are claimed to mimic, the effects of illegal drugs.
"There is a common, but mistaken, perception that because such drugs are not legally controlled or banned they are safe," it said.
Among recommendations published on Tuesday, the ACMD called for education - particularly in schools - to counteract that belief.
Side effects of legal highs included severe agitation, paranoia, high blood pressure, increased heart rate and heightened aggression. There is evidence that one drug, GHB, can be addictive.
The government has already classified naphyrone, mephedrone (and related cathinones), Spice, GBL, BZP and ivory wave as class B drugs.
Mephedrone contributed to 42 confirmed deaths, the report said.
It was banned after widespread media coverage of its effect. Four people died in 2010 after taking it.
It also said it recognised a lack of substantive research in detecting drug changes, mainly due to the speed at which the drugs surface in the UK, but also because of a lack of funds.
However, it recommended more resources for research on the chemistry, pharmacology, acute harm, and the social harms of legal highs.
With the internet being the "main method" of promoting legal highs, "more often than not misleading claims are made about the substance, eg purporting that substances are bath salts or fish food", the council called on the Advertising Standards Authority to investigate claims made by the websites.
The council also wants UK authorities to use their powers more strongly to prosecute sellers of legal highs.
"The burden of proof should be placed upon the supplier to establish beyond reasonable doubt that the product being sold is not for human consumption and is safe for its intended use," its report said.
Related Internet Links
The BBC is not responsible for the content of external sites.