Newspaper review: PM 'bruised' over EU referendum vote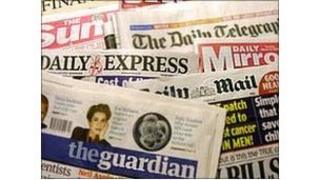 Considering the rebellion by backbench Conservative MPs in the Commons vote on a referendum on Europe, the Daily Mail says the prime minister received a "bloody nose".
He was "battered" and "bruised" by the rebels, according to the Daily Star.
The Sun says he deserved it - paying a humiliating price for snubbing public calls for a referendum on the EU.
The Guardian says the rebels were unpersuaded by Mr Cameron's pledge to repatriate powers.
'Unoccupied London'
The Daily Telegraph refers to the protest by anti-capitalist protesters outside St Paul's Cathedral as "unoccupied London".
It says infra-red images from police helicopters have revealed only about 10% of the tents in the camp were occupied at night.
The Independent says the campaigners have called in their own safety expert and have vowed to stay.
The Daily Express urges them to fold up their tents and go.
Aid refusal
The Daily Telegraph describes some of the rescue efforts in eastern Turkey, where it says hopes are fading of finding more earthquake survivors.
One rescue worker describes how he had to amputate a nurse's arm with his knife to free her from a concrete slab.
The Times considers Turkey's refusal to accept aid from abroad, at a time that it is trying to assert its influence internationally.
The Guardian says the death toll could yet rise further.
'Crippling' pains
The main story for the Daily Mirror is the health of the Bee Gee Robin Gibb.
The paper says he is suffering from the same crippling stomach condition from which his twin Maurice died in 2003.
It quotes a friend as saying he is unwell but determined to fight the disease.
The Sun says the singer bravely left his sick bed to appear on television to support the Poppy appeal, while the Daily Mail says Gibb was forced to cancel a meeting with David Cameron.