Legal aid bill 'to hit families, women and children'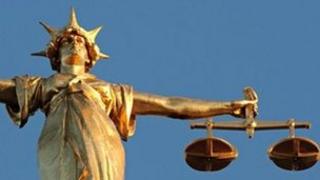 A coalition of lawyers and charities has attacked planned government changes to the legal aid system as "disturbing" for children, women and families.
The Legal Aid, Sentencing and Punishment of Offenders Bill - being considered by MPs next week - aims to save £350m a year.
But campaigners say 600,000 people will lose legal aid with many forced to represent themselves in court.
The government insisted legal aid would remain for the most vulnerable.
The Family Law Bar Association, the Bar Council, the Children's Commissioner, Gingerbread, Liberty and Women's Aid are among the groups launching a manifesto calling for a re-think.
Stephen Cobb QC, chairman of the Family Law Bar Association, said: "The civil legal aid cuts will be bad for children, bad for women and bad for families.
"We face the very real prospect that many children and women who have been victims of domestic abuse will have to endure the further trauma of being cross-examined by their alleged perpetrator, who will not be eligible for legal aid."
Mr Cobb continued: "We are facing a disturbing new landscape in which 600,000 people will no longer receive legal aid, 68,000 children will be affected by the removal of legal aid in family cases and there will be 75% fewer private law cases in court."
Shadow home secretary Yvette Cooper said women and children were "bearing the brunt of this government's actions".
"Denying victims of domestic violence legal support, or increasingly making victims endure cross-examination by their assailants, will remove the vital protection many vulnerable women depend upon."
A Ministry of Justice spokesman said: "If there is evidence of violence or abuse, we are absolutely clear legal aid must remain available.
"That's why £400m is available each year for these cases.
"However, at more than £2 billion a year we have one of the most expensive legal aid systems in the world.
"It is also a system that has grown to encourage lengthy acrimonious and sometimes unnecessary court proceedings at the taxpayers' expense."