Newspaper review: Implications of EU vote assessed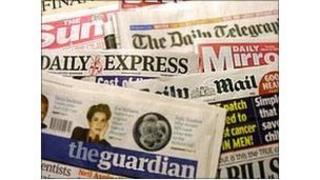 It is David Cameron's "week of hell" according to the Sun as he faces a battle with European Union leaders over the eurozone, and with his own MPs over the Commons referendum vote on Europe.
The Guardian says a week of "intense political infighting" lies ahead.
But what is surprising, the Telegraph says, is that the prime minister has decided to pick a fight with his backbenchers when he did not have to.
It says the debate should not foment divisions within the Tory party.
'Stench of death'
Pictures showing Libyans queuing to see Colonel Gaddafi's body in a refrigerated storeroom make some of the papers slightly uneasy.
The Mirror reports that crowds, including young children, filed past the body while filming it on their mobile phones.
Most wore masks against "the rotting stench of death", says the paper.
As a family day out, the Daily Mail says, it must rank as one of the most bizarre and macabre.
Wrong message
The problems facing St Paul's Cathedral as a result of anti-capitalist protesters is widely reported.
The Daily Mail reports that the impact will be felt more this week, as the number of people who normally visit the cathedral rises during half term.
The Times says it could be closed until Christmas as the protest grows.
A writer in the Independent claims that "whatever the church's spiritual message, for those who run the place its fabric is more important."
Moving palaces
Several papers say the Prince of Wales is considering moving the royal family out of Buckingham Palace when he becomes King, moving to Windsor Castle.
The Express says the revelation comes in an authoritative book by Andrew Marr to mark the Queen's diamond jubilee.
The Telegraph reports that the Palace would become a hotel and events centre for government use.
The Mirror says the move would be part of a plan of change during the first year of the Prince's reign as King.