Queen meets King's Speech actor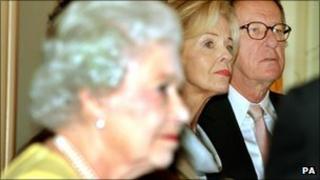 The Queen has met actor Geoffrey Rush - who played the speech therapist who treated her father King George VI in the film The King's Speech - during her visit to Australia.
She met the actor, critically acclaimed for playing Lionel Logue in the Oscar-winning film, at a lunch after church in the capital Canberra on Sunday.
Crowds cheered her on as she attended St John the Baptist Anglican church.
The Queen's 10-day tour of Australia is her 16th visit to the country.
Wedding outfit
On Friday she will open the Commonwealth Heads of Government Meeting in Perth.
Arriving to cheers from waiting well-wishers outside church, the Queen was wearing the same yellow dress and white hat she wore to the marriage of Prince William and Kate Middleton earlier this year.
In church, she contributed to the Sunday collection, with her Australian equerry Commander Andrew Willis putting an undisclosed amount of money in the tray.
The Queen also sent a message congratulating the New Zealand rugby team after the All Blacks beat France 8-7 in the Rugby World Cup final in Auckland, New Zealand.
A Buckingham Palace spokesman said: "The Queen congratulates New Zealand on their victory in the Rugby World Cup Final and sends her warm wishes to the team for their excellent performances."