Newspaper review: Papers debate impact of eurozone crisis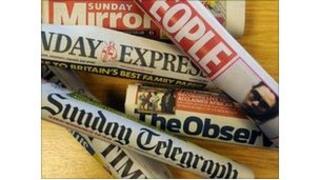 The gravity of the eurozone crisis is summed up by the Sunday Mirror: "If the Euro goes... we all go."
That view explains why some papers agree with David Cameron that this is not the time for a full-scale argument about continued membership of the EU.
The Sunday Express agrees, saying the sceptics must realise it's the wrong time to push for a vote.
The Observer describes calls for a referendum now as "an absurd sideshow".
'Gloat like barbarians'
The Sunday Times compares TV news footage of Colonel Gaddafi's death to "a sickening snuff movie" while the Mail on Sunday asks "did we really need to gloat like barbarians?"
The Independent on Sunday questions what will happen to the Arab Spring now. It says the world waits to see what will happen next in the region.
Meanwhile, the People thinks Gaddafi's death may prove to be "good news for hard-pressed Brits" as the return of oil production could see petrol prices drop.
University test
The Sunday Times says universities are facing their biggest fall in applications for more than 30 years, as new figures show a decline of 10% in the face of next year's fee rise.
It says this will concern ministers who claim their finance package is designed to favour the least well-off.
The Observer reports that consumer rights magazine Which? is to test the value of university degrees.
The magazine will look at teaching standards and research departments.
'Off his rocket'
The papers take some innocent pleasure in the latest tribulations of Manchester City player Mario Balotelli.
The Sunday Mirror says the footballer started a fire at his home by setting off fireworks in the bathroom.
"Off his rocket," says the Daily Star on Sunday while a headline in the Sunday Telegraph describes the incident as a "damp squib of a home game".
Elsewhere, the Independent on Sunday says Bullseye, the darts-based quiz show, is being remade for America.