Queen in 'difficult year' tribute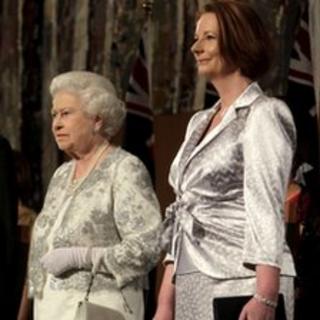 The Queen has paid tribute to the courage shown by people during a "difficult year" of heavy flooding in Australian towns and a devastating earthquake in New Zealand.
She was speaking at a reception at Parliament House, Canberra, in her only public speech during the 11-day tour.
The monarch reflected on Australia's record floods that killed 35 people.
The earthquake in New Zealand in February hit the city of Christchurch, killing at least 169 people.
The Queen is on an 11-day tour of Australia with the Duke of Edinburgh.
She said: "It has been a difficult year for this country in many ways despite the successes.
"We all witnessed the anguish of Australians as they lived through a summer of natural disasters. We saw towns battered by a cyclone; homes, businesses and families destroyed by devastating floods."
Referring to Christchurch, she said: "And across the Tasman in New Zealand, we saw a city utterly ruined by an earthquake."
'Deep respect'
The Queen will meet those affected by the floods in the Queensland capital of Brisbane next week.
Welsh-born prime minister Julia Gillard earlier welcomed the Queen, who is on her 16th visit to Australia, as a "beloved and respected friend".
Ms Gillard said the future of Australia, which voted against cutting ties to the monarchy in 1999, remained unknown.
"Your Majesty, we do not know where Australia's path of nationhood may lead in the times to come," said the prime minister, who favours Australia becoming a republic.
Ms Gillard has faced criticism for deciding not to curtsey to the Queen when the pair first met, and on their second meeting on Friday she again bowed her head twice as the monarch walked into the room.
"We are, as you once so rightly said, 'a country on the move and will go on being so'," said Ms Gillard, before adding that the Queen would continue to have Australians' "lasting affection and our very deep respect".
Last year, Ms Gillard faced weeks of political wrangling before she was able to form Australia's first minority government in decades, which commentators have said could easily be threatened.
Earlier, the Queen discussed the difficulties of forming minority governments when she met the leader of the Australian opposition, Tony Abbott, in Canberra.
Upon meeting Mr Abbott, the Queen said: "It is an interesting time."
Liberal Party leader Mr Abbott replied saying: "It is never dull, we play our politics tough in this country and give no quarter, Australian society is always dynamic."
He made the Queen laugh when he added: "We like to think we're the happening place, your majesty."
"A minority government is always a difficult thing to organise," the Queen replied.
Talks then continued behind closed doors for almost 20 minutes.