UK paid £3m to fraud probe agency in Afghanistan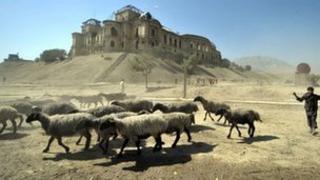 The UK paid more than £3.2m to an aid agency which has ceased operations in the Afghan capital amid fraud allegations, the BBC has learned.
Documents show officials were aware of problems in 2009 but continued to pay the German agency until April.
AGEF was contracted to help resettle failed asylum seekers sent back to Kabul and also to train local people.
The Home Office says it found "no evidence of financial wrongdoing". AGEF has denied allegations of fraud.
An iron gate topped with barbed wire on a street in Kabul hides what, until April this year, were the offices of AGEF. The aid organisation is now being investigated by the attorney general in Berlin over allegations of fraud.
The German Ministry for Economic Cooperation and Development is also trying to recover funds from AGEF.
Between 2005 and April 2011 it was also contracted by the UK government to provide training and advice to failed asylum seekers removed from the UK and returned to Afghanistan.
AGEF, which Home Office figures show received more than £3.2m from the taxpayer, claims to have assisted more than 3,000 Afghans in that time.
But an investigation by the BBC has uncovered documents which show there were problems in the organisation more than two years ago.
"David" is a whistle-blower who knew AGEF well but does not want to be identified.
"There was an atmosphere of distrust, of hiding things, not talking about things openly," he said.
An invoice sent from AGEF to the British authorities in March 2009 requested payment for placing people into employment over the previous 12 months and included a list of names.
But at least one man on the list was actually a senior police officer who had been in the job for years.
"David" says the majority of those on the list could not have been placed in their jobs.
'Procedural mistake'
"Most of these are government officials, in agencies, in headquarters in ministries. These are people in charge of the operations," he said. "They are senior people, influential people."
Klaus Duennhaupt, the chief executive of AGEF, says all the allegations made against the NGO are "untrue and false".
The March 2009 invoice was "a procedural mistake" which "was rejected correctly" by the British embassy, he said, adding that the employee who made the mistake was dismissed in April 2009.
But the BBC has obtained an audit report commissioned by the UK Border Agency and carried out by PricewaterhouseCoopers, later the same year, which also raised concerns about AGEF's operations.
The findings included:
Auditors could not verify the existence of all returnees
AGEF was paid more than £87,000 for work not covered by its contract
All transactions were carried out in cash
More than 70% of clients received no training, counselling or help in finding a job
A Home Office spokesman said: "We carefully monitored AGEF's performance, scrutinised invoices before payments were made and arranged a thorough independent audit.
"We found no evidence of financial wrongdoing or abuse of public funds by AGEF."
The attorney general in Berlin began investigating AGEF in October 2010 and the German Ministry for Economic Co-operation and Development ceased its work with AGEF in December last year.
The contract between the UK government and AGEF finished in April 2011, but the UK Border Agency paid AGEF more than £300,000 on 25 March.
Failed asylum seekers are still being sent back to Afghanistan but, with AGEF closed, the little help that was on offer has all but dried up.
Some observers believe that leaves young men at risk of being recruited by criminal gangs or even the Taliban.
Others will just make the long trip back to the UK.
As far as David is concerned, the contract between AGEF and the British authorities simply didn't deliver what it was meant to.
"It failed not only the British taxpayer, but it failed Afghanistan."