Tycoon Boris Berezovsky 'outraged' at Roman Abramovich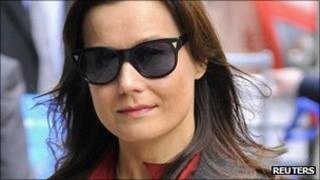 An exiled Russian oligarch was "outraged" after a meeting with current Chelsea Football Club owner Roman Abramovich, the High Court has heard.
Businessman Boris Berezovsky's "long-standing partner" Elena Gorbunova recalled the meeting in Cap d'Antibes, France, in 2000 in a witness statement.
Mr Berezovsky, 65, claims Mr Abramovich "intimidated" him into selling shares for a fraction of their true worth.
Mr Abramovich, 44, denies alleged breaches of trust and contract.
Mr Berezovsky is suing fellow-Russian Mr Abramovich for £3bn in a Commercial Court trial in London.
Birthday party
Ms Gorbunova, 44, from Moscow, told High Court judge Mrs Justice Gloster in the written statement that she "started dating" Mr Berezovsky in 1991 and had been his "long-standing partner" since the early 1990s.
She recalled that after the meeting in December 2000, Mr Berezovsky told her Mr Abramovich was "blackmailing" him into giving up his interests in a Russian company.
"I remember that after the meeting, Boris was outraged," she said in the witness statement.
She said Mr Berezovsky held a party to celebrate his 55th birthday in January 2001 but Mr Abramovich was not invited.
"He was never again invited to any of our parties. Boris never wanted to see him again." she said.
Left country
She said she "understood" that Mr Abramovich denied meeting Mr Berezovsky in December 2000 but added: "I am sure that Roman is wrong about this.
"Although, I do not remember the precise date of the meeting, I can picture it very clearly."
Mr Berezovsky alleges that billionaire Mr Abramovich "betrayed" him and "intimidated" him into selling shares in Russian oil company Sibneft for a "mere $1.3bn" (£800m).
He says this happened after he left Russia in 2000 following a falling-out with the then President Vladimir Putin.
Mr Abramovich denies the allegations and denies that Mr Berezovsky is entitled to damages.
He says Mr Berezovsky was paid millions of pounds for his services as a "political godfather" but was not a business partner.
The hearing, which is set to last two months, continues.