Rowan Williams attacks Egypt forces over Christian deaths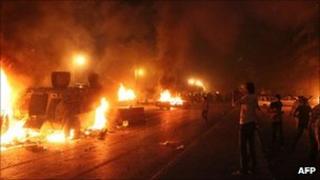 The Archbishop of Canterbury has condemned Egypt's security forces over the deaths of Christians in clashes in Cairo this month.
Dr Rowan Williams told the House of Lords the military must stay at a "proper distance" from the inquiry into the deaths.
Foreign Office minister Lord Howell agreed to put pressure on the Egyptian Government to get to the truth.
Twenty-five people died in the clashes between Coptic Christians and troops.
Archbishop Williams told peers part of the underlying problem was a "prolonged failure by the security forces to guarantee the safety of Christian personnel and property".
He called on ministers to press the Egyptian government to make sure the inquiry into the deaths was characterised by objectivity and "proper distance of that inquiry from the military establishment".
Lord Howell said Dr Williams was absolutely right about the long history of the "pressures and difficulties" as well as the "recent evidence of a rising tide of extremism in the clashes that have occurred".
He added: "I can only reassure you that the dialogue continues, the pressure is on.
Egypt's ruling council has denied that troops opened fire on Coptic Christian protesters and drove military vehicles into crowds during the unrest.