Pakistan cricket trial: Salman Butt 'betrayed by agent'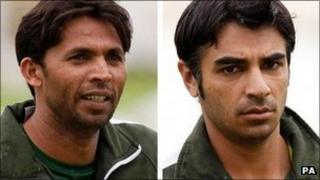 Former Pakistan cricket captain Salman Butt has told a court he was betrayed by an ex-friend and agent who claimed he was part of a match-fixing scam.
After hearing evidence that the agent arranged to rig games against England in 2010, Mr Butt said he had misjudged Mazhar Majeed, 36, "completely".
The cricketer told Southwark Crown Court he knew nothing about an alleged agreement to bowl intentional no-balls.
Mr Butt, 27, and fast bowler Mohammad Asif, 28, deny corruption charges.
'Took his word'
He told the court that Mr Majeed asked him to rig parts of certain matches but insisted he ignored the requests.
Mr Butt admitted he had a suspicion that Mr Asif and another fast bowler, Mohammad Amir, 19, might have been involved in the betting racket.
He said in court about Mr Majeed: "I didn't realise what kind of a man he was. I thought I knew him better.
"But now, with the things that have come out and I've seen and heard, I think I have misjudged somebody completely.
"I just took his word and trusted him. I knew him for that long but I never thought there would be another side to him like this that could be this bad."
'Play with passion'
Asked about match-fixing, Mr Butt told the court: "It is a terrible thing to do, not good for the game, not good for the country, and it speaks to the character of the man."
He added: "I would never do that. With my passion I play for my country - that is all I have done since I grew up."
Mr Butt said Mr Majeed gave him £2,500 in cash on the night of 26 August as part-payment for the cricketer to attend the opening of the agent's new ice cream parlour in Tooting, south London.
Under cross-examination, Mr Butt said he did not realise how lucrative match-fixing was until he heard the evidence given to the trial by the former head of the International Cricket Council's anti-corruption unit, Ravi Sawani.
Prosecutor Aftab Jafferjee QC said to Mr Butt: "You were in this conspiracy to make as much money as you could out of the game that you profess to love. That's the sad truth, isn't it?"
The cricketer replied: "That's what you think."
Lord's Test
Jurors have been told that Mr Majeed accepted £150,000 in cash, as part of an arrangement to rig games, from an undercover News of the World reporter investigating cricket-fixing.
Prosecutors allege Mr Majeed, from Croydon, south London, conspired with Mr Butt, Mr Amir and Mr Asif to deliver three deliberate no-balls during the Test match between Pakistan and England at Lord's, from 26 to 29 August last year, in return for bribes.
The jury has heard that the agent told the undercover journalist that two no-balls would be bowled by Mr Amir and one by Mr Asif at pre-arranged points during the Lord's Test.
Mr Butt and Mr Asif, who are standing trial, deny conspiracy to cheat and conspiracy to accept corrupt payments.
The trial was adjourned until Wednesday.