Scouts launch voluntary 'bob-a-job' week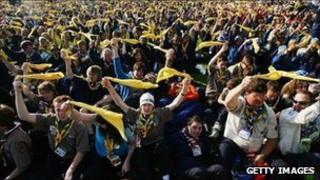 Scouts are to volunteer their services in a dedicated UK week of action for the first time almost 20 years after "bob-a-job week" ended.
The Scout Association is to launch Scout Community Week from 14-20 May next year, encouraging its members to do work to help their local community.
Members of the public will be able to contact their local Scouts to suggest community projects.
It is estimated that up to 400,000 young people will be involved.
The original series of scout volunteer weeks was known as "bob-a-job week", and saw members of the public asked to contribute a shilling - worth five pence - in exchange for scouts doing jobs.
Meanwhile, a new report says almost half of all Scouts are now volunteering in their wider community as well as with the Scout movement.
Community action
Adventurer Bear Grylls, the UK Chief Scout, said volunteering was "at the very heart of scouting".
He added: "All Scouts promise to help other people and there is no better way of showing this than getting involved in your community. I hope that as many Scout Groups as possible will get inspired in this celebration of their own community next May.
"This country is full of many people who give of their spare time to make a difference and I am proud to be amongst their numbers. Together we can influence positive change."
Matt Rooney, head of Nottinghamshire Scouts, told BBC Breakfast that the new week of action would be different from the previous one, in that scouts would no longer go door-to-door offering to do work in return for a small donation.
"It's not about rattling tins and brushing leaves off the neighbours driveway. It is about local communities working with the Scouts to decide on projects that they can do to make things better locally.
"So a really great opportunity to get scouting out in the community and try to re-focus some of the work that scouting does because, of course, we are a charity as well as a youth organisation."