Church of England women bishop plan wins regional votes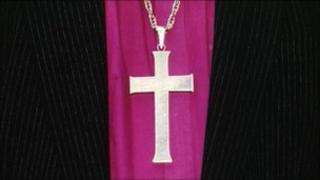 Legislation to introduce women bishops into the Church of England has moved a step closer, according to supporters.
So far 28 out of 30 of the Church's regional councils, the diocesan synods, have voted to endorse the legislation.
Having been backed by most of the 44 diocesan synods, the measure will return to the General Synod next year.
A further motion with extra concessions for Anglicans who cannot accept women bishops has been supported by just six diocesan synods.
The Church's national assembly, the General Synod, may vote finally on the legislation next July.
If approved there, it will be sent to Parliament for approval and Royal Assent.
The earliest likely date for a woman bishop to be appointed would be 2014.
Sally Barnes, of Watch, which campaigns for greater female representation in the Church, said the results from the diocesan synods showed more support than they had expected for the legislation.
"We knew there was support there from the ordinary person in the Church, but the diocesan synods do not always reflect that. In this case, they have," she said.
Vote warning
The final stages of the legislation would require a two-thirds majority in each of the three Houses of the General Synod - of bishops, clergy and laity.
The Reverend Paul Dawson, spokesman for Reform, a conservative evangelical group within the Church of England, warned that the General Synod may vote against the proposals.
He said the make-up of the assembly changed last year and it now has more conservative members.
"It means that unless there are proper provisions made for those who cannot in conscience accept women bishops, there's a real possibility that they will say no."
'Second class bishop'
He said the fact that dioceses have so far supported the proposals was not a surprise; however, he believes the General Synod vote would be closer than what the diocese results have suggested.
The proposed legislation as it stands allows for the bishop of a diocese to appoint a stand-in male bishop to look after a parish opposed to women bishops.
Opponents say accepting a bishop (even one who shares their Anglo-Catholic or Evangelical views) appointed by a woman diocesan bishop would mean accepting her authority.
Instead, they want the stand-in bishops to derive their powers from the law itself, and not from the bishop of the diocese.
Supporters of women bishops say that is unacceptable because it means a woman would be a "second class bishop" without control in her own diocese.