Prison population in England and Wales starts to fall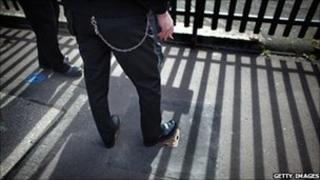 Prison numbers in England and Wales have fallen for the first time in six weeks, following a string of record highs in the wake of the summer riots.
Some 87,551 people are in jails, young offender institutions and immigration removal centres, compared with 87,673 last week.
In means that prisons are now more than 1,250 under-capacity.
Ministers had insisted there was space for anyone jailed for the violence or looting in English cities in August.
The number of children held on remand that month rose by almost a quarter, the figures show.
A total of 577 under-18s were held on remand in August, a 23% increase on the 469 held in July, the Ministry of Justice (MoJ) said.
Operational capacity
The prison population as a whole rose from 87,214 on 23 September to last week's record high, before falling, as cases relating to disorder in cities including London, Birmingham, Nottingham, Liverpool and Manchester progressed through courts.
The useable operational capacity in England and Wales - the level at which which prisons can be controlled, kept secure and operated satisfactorily - is 88,818.
Ministry of Justice figures showed defendants charged with offences connected to rioting were more likely to be held on remand than those charged with similar crimes unconnected to public disorder.
Those convicted were also being jailed for longer - an average of 10.4 months for violent disorder, compared with an average of 5.3 months last year.
Campaigners said they were "disappointed" by the number of children on remand.
Penelope Gibbs, director of the Prison Reform Trust's Out of Trouble programme, said: "These are children who pleaded innocent and have not been convicted.
"Imprisoning children who have not yet been convicted should be an absolute last resort."