Lucian Freud 'masterpiece' Boy's Head sold for £3m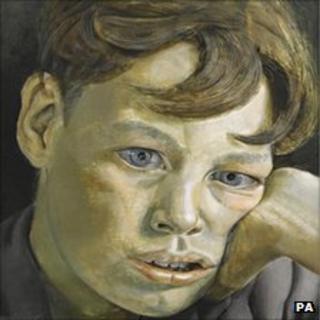 An "indisputable masterpiece" by Lucian Freud of one of his most recognisable subjects has sold for more than £3m.
An anonymous bidder bought the painting of Freud's neighbour, Charlie Lumley, for £3,177,250 - including the buyer's premium - at Sotheby's in London.
But Boy's Head, a small 1952 work by one of Britain's most distinguished artists, failed to meet its pre-sale estimates of up to £4m.
Freud, a grandson of the psycho-analyst Sigmund Freud, died in July aged 88.
The painting measures just 8.5in (21.6cm) by 6.3in (15.9cm) and shows the subject's head supported by his hand.
'Great legend'
Sotheby's Cheyenne Westphal said: "Highlights of our sale of contemporary art included an indisputable masterpiece by Lucian Freud, the great legend of the London School."
But the Freud was eclipsed by a private collection entitled Italian Identity, which sold on the same evening for a combined total of £39,456,950 - including buyer's premium.
The works included Alberto Burri's Combustione Legno of 1957, which set a new auction record for the artist.
Lucian Freud was once described by art critic Robert Hughes as the greatest living realist painter.
His younger brother was Clement Freud, who went on to become a broadcaster and writer.