Prince Charles to visit South Africa community projects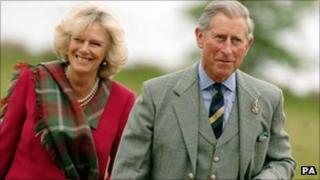 The Prince of Wales and Duchess of Cornwall are to visit townships and community projects in South Africa during a tour next month.
They will also travel to Tanzania, visiting a Maasai village, a national park and the island of Zanzibar.
Their visit will be part of the celebrations of the 50th anniversary of Tanzania's independence from the UK.
Themes for the tour on 2-9 November include the environment and sustainability, education and trade.
It will take place a month before the Durban Climate Summit.
Prince Charles has recently become president of the environmental charity WWF in the UK, and in both African countries there will be a strong focus on the charity's work to protect endangered species and fragile ecosystems.
The duchess will make visits to child literacy programmes in both countries.
During the tour of South Africa, the couple plan to visit Cape Town, Johannesburg, Pretoria and KwaZulu-Natal.
In Tanzania, they will meet President Jakaya Kitwete at his residence in the country's largest city, Dar es Salaam.
16,000-mile trip
Before the African tour, Prince Charles will make a short visit to the Middle East on 31 October and 1 November.
He will go to Kuwait to celebrate the 50th anniversary of independence as the guest of the Amid and the Crown Prince, and will then stop briefly in Qatar for discussions with the Emir.
Economy, trade and the Arab Spring will be on the agenda for both meetings.
The Duchess of Cornwall will fly to South Africa separately and meet Prince Charles there. He will travel about 16,000 miles on the trip.