Alexander Litvinenko murder was 'London nuclear terror'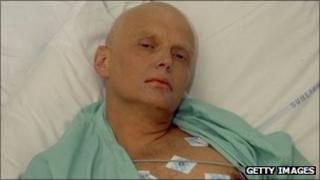 The murder of Russian dissident Alexander Litvinenko was "an act of nuclear terrorism on the streets of London", a coroner has heard.
Mr Litvinenko died in 2006 after he was apparently poisoned with the radioactive substance polonium-210.
Ben Emmerson QC said 700 people had to be tested for radioactive poisoning.
St Pancras coroner Dr Andrew Reid is holding a pre-inquest review where he will decide whether he or a top judge should hear the inquest into the death.
'Grave suspicion'
Mr Emmerson, representing Mr Litvinenko's family, said a number of locations were closed for several months as health agencies tried to contain the risk of contamination.
He told the hearing at St Pancras coroner's court in London that the case gave rise to the "grave suspicion" that Mr Litvinenko's death was the result of state-directed execution by Russia.
British authorities had abandoned the search for truth in order to maintain trade relations with the Russian government, he added.
The prime suspect for Mr Litvinenko's death is ex-KGB officer Andrei Lugovoi who was represented in court. His legal team says he denies any involvement.
The family of former Russian spy Mr Litvinenko has called for a senior High Court judge to be appointed to conduct the inquest.