Newspaper review: Pressure mounts on Liam Fox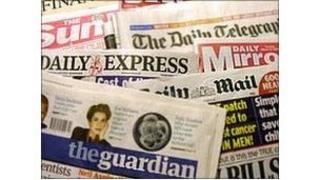 The controversy surrounding Liam Fox features heavily on the front pages.
The defence secretary has denied claims in the Sun that Conservative Party officials lied by saying he was alone in his flat during a burglary.
The paper reports that a younger man had been staying in his flat overnight.
The Daily Mail says Mr Fox tagged four short foreign breaks with his friend Adam Werritty on to official government trips - two of them in Dubai and two in Hong Kong.
Party donor
The Times claims Mr Werritty acted as an advance party overseas because Mr Fox was suspicious of civil servants.
The Guardian says hotel records throw fresh doubt on to Mr Fox's claim that Mr Werritty was operating in "a private capacity" when they met twice in Dubai.
And the Daily Telegraph reports Mr Werritty works out of office belonging to one of the Tories' biggest donors - CQS hedge fund founder Michael Hintze.
It tells us he has been provided with a desk at the company's London base.
Family life
Measures to prevent children accessing online pornography are widely welcomed.
Rowan Pelling in the Daily Telegraph believes they demonstrate the government's determination to fight for family life.
But the paper says the pledge by four UK web providers to offer customers the option of blocking adult content will only affect new subscribers.
In the Daily Star's view, anything that can be done to shield children from being force-fed too much too young can only be a good thing.
Lottery jackpot
Several papers criticise the European Commission president for suggesting the UK should pay into the Greek bailout.
The Daily Express says it is absurd as the UK is not in the eurozone, while the Daily Mail calls it "brazen cheek".
Finally, the papers are envious of the 20 friends and relatives who will each get £1m from the couple who won more than £100m on the Euromillions Lottery.
The Sun says the lucky pair are already discovering they have hundreds of friends they never knew about.