Police to track criminals whose DNA is not on database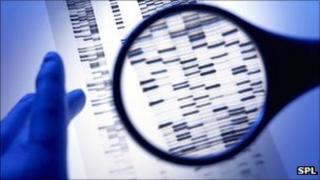 Police could take DNA samples from up to 13,000 people convicted of serious offences like murder, manslaughter and rape, whose profiles are not on record.
Home Secretary Theresa May is expected to announce the move after Home Office researchers identified which offenders were not logged on the UK DNA database.
Many were convicted before DNA tests were introduced or before samples had to be given by law.
Police forces in England and Wales will target the highest-risk offenders.
Some of their offences are likely to date back 30 or 40 years.
The DNA-testing powers were contained in the Crime and Security Act, which was introduced under Labour and came into force in March.
Mrs May is expected to tell MPs later that the government wants to improve the effectiveness of the database by adding details of the most high-risk criminals convicted of homicide and serious sexual offences.
Potentially this could have significant implications for clearing up unsolved offences where DNA evidence has been left at the crime scene.
The Association of Chief Police Officers (Acpo) has been working with the Home Office to identify the offenders since last June.
Storage period
Acpo's Gary Pugh said: "Where these individuals come into contact with the police, we will take their DNA and it will be added to the database."
In other cases, he said, chief constables would "consider diverting resources towards securing DNA from these people based upon an assessment of the potential risk an individual poses to the community".
Mrs May's plans will be outlined during the third reading of the Protection of Freedoms Bill in the Commons.
Under the bill, the storage period for DNA profiles of those arrested or charged but not convicted will be cut from six to three years, as is the case in Scotland. Details of more than one million such people have already been removed.
However, police will also be able to apply to the new independent commissioner for the retention of suspects' DNA and fingerprints in particular cases.
These include where the alleged victim is considered to be vulnerable, or where retention is considered necessary in the interest of the prevention or detection of crime.
Former Labour Home Secretary Alan Johnson has warned the government's plan to cut the storage time of suspects' DNA profiles will prove a "catastrophic error" that will "come back to haunt" members of the coalition.