UK and US forces 'rescue pirate-held Italian ship'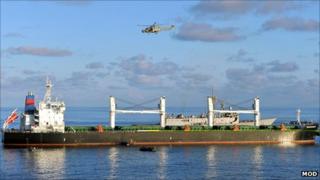 British and US naval forces freed an Italian ship from Somali pirates after hostages threw an SOS message in a bottle from a porthole, Italy's defence minister has said.
Ignazio La Russa said the 23 hostages had locked themselves in the strong room of the 56,000-tonne Montecristo.
The bulk carrier had been seized 620 miles (1,000km) off Somalia on Monday.
The Royal Navy met no resistance on boarding it and detained 11 suspected pirates, UK defence officials said.
Italy's foreign ministry expressed "great satisfaction" with Tuesday's rescue, while members of the crew - seven Italians, 10 Indians and six Ukrainians - were said to be safe.
'Helicopter operation'
The D'Alessio Group-owned cargo ship, carrying scrap metal, had been making its way from Liverpool to Vietnam when it was intercepted by pirates.
However, crew members were able to lock themselves in the strong room from where they could control the engine and steer.
Italian defence minister Ignazio La Russa said: "The criminals managed to cut off all means of communication, but the 'prisoners' tossed a bottle with a message through a porthole explaining the situation."
This gave an important signal the crew were out of harm's way and that an operation could be launched without risking injury, he said, adding that helicopters were used in the rescue.
The suspected pirates would be handed over to the Italian authorities, Mr La Russa added.
A UK Ministry of Defence spokesman said the British Royal Fleet Auxiliary ship Fort Victoria, currently on Nato counter-piracy operations east of Suez, and a US frigate were sent to help the seized vessel.
"Due to the presence of the warships, 11 suspected pirates on-board the pirated vessel surrendered without force," he said.
'Costs millions'
Defence Secretary Liam Fox paid tribute to the Royal Navy and Royal Marines personnel involved, and said the operation demonstrated the "global presence" of UK armed forces.
"Piracy puts lives at risk and costs the maritime industry millions of pounds every year. The Royal Navy is at the forefront of international efforts to battle this menace," he added.
Somali pirates are known to capture vessels in the Indian Ocean in the hope of obtaining a ransom for the safe return of crew members.
They are also believed to have captured Judith Tebbutt, a 56-year-old woman from Hertfordshire, in September. Her husband David was shot in front of her at a remote beach resort on the north Kenyan coast.
And in 2010, Paul and Rachel Chandler from Tunbridge Wells, were released after being held captive for more than a year.
'Piracy season'
Karen Jacques, from Dryad Maritime Intelligence Services which monitors the threat of piracy, said the "piracy season" had only just begun, with the end of monsoon weather making life easier for hijackers.
Every indication was that the number of hijackings could increase this year, she said.
"The stakes have got higher, the ransoms that have been paid have been higher but the good news is... that it seems the shipping industry is braced for it and are ready," she added.
Mr La Russa had earlier indicated that 10 teams of six marines could soon be stationed on Italian merchant vessels sailing in high-risk areas in a bid to combat piracy.
In July, Foreign Office Minister Henry Bellingham told a committee of MPs that limited resources in the light of current military commitments could not allow Royal Marines to do the same.
However, he said the government was considering allowing private armed guards to be posted on British merchant vessels.
Somalia has been gripped by fighting between various militias for two decades, so weapons are widely available and there are many armed groups who could be responsible for hijackings.