Scotland Yard finds former chief's Lord Stevens' diary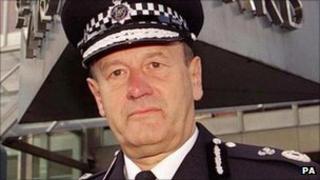 The Metropolitan Police has found the missing diary of Lord Stevens, its former commissioner, hours after it launched an inquiry into its location.
The diary, which covers the period from February 2000 to January 2005, was found at New Scotland Yard.
The documents may record meetings between the former police chief and News International executives.
They will now be reviewed and be subject to the Freedom of Information Act.
The documents that have been found are a print out of Lord Stevens' electronic diaries, and paper diaries that cover the time before the electronic system was introduced.
Earlier, Bernard Hogan-Howe, the new commissioner, said a senior detective would lead a "very thorough investigation", adding that "sometimes things can get misplaced".
The former commissioner described in his autobiography that he had worked hard to foster good relations with newspapers and had made himself "available" to editors including Rebekah Brooks (then Wade) at the Sun and Andy Coulson, then at the News of the World.
'Mistake'
Both former editors have been arrested and bailed as part of the Yard's massive investigation into phone hacking.
Lord Stevens began writing a column for the News of the World after retiring from the police service.
Earlier, Mr Hogan-Howe told the Home Affairs committee that there had been a general requirement in the past to keep documents for six years.
The policy had changed and documents were no longer kept for more than two or three years. He said he was now looking into the reasons for that change in policy.
Scotland Yard has already said in a statement that there is no requirement for it to keep the diary of an outgoing commissioner because it is a working document used to support the running of his office.
Mr Hogan-Howe also told MPs there were now 30 separate inquiries relating to phone-hacking.
He said Scotland Yard made a mistake when it cited the Official Secrets Act as it tried to force the Guardian newspaper to reveal information about the source of its phone hacking stories, but added that the aim was "to stop the leak from the inquiry".
"We got a lot of feedback that it was the wrong decision, so we changed, we stopped what we were doing and changed our decision, to be rewarded by headlines the following day that we had had a screeching U-turn," he said.
Lessons
The force said it wanted to identify evidence of "potential breaches relating to Misconduct in Public Office and the Official Secrets Act".
An officer working on Operation Weeting, the Met's investigation into phone hacking, was arrested in August on suspicion of misconduct in public office relating to the unauthorised disclosure of information. He has been suspended from duty and is on bail.
Mr Hogan-Howe added that while the Official Secrets Act was mentioned in relation to possible offences, the application for production orders had been made under the Police and Criminal Evidence Act.
Lessons had been learned, he also said: "We wouldn't want a similar challenge to arise in the future.
"We have reviewed it in this case. I don't anticipate we'll be needing to make this type of order often. We're all considering the results of our experience recently and I'm sure we don't intend to make a similar approach," he said.