London 2012: 'Have a beer' to avoid Olympic delays at Games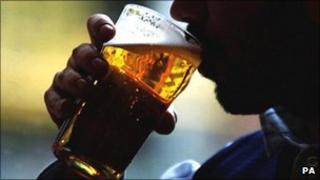 Transport chiefs have recommended an old-fashioned way for commuters to avoid Olympian queues during London 2012 - have a beer before heading home.
Transport for London Commissioner Peter Hendy gave the advice as he briefed London Assembly officials on the capital's readiness for the Olympics.
With the Games nine months away, planners are bullish they can keep the city's ageing transport system running.
But delays are still expected as London prepares for an extra 5.3m visitors.
And concerns remain about the ability of London's narrow streets and already near-capacity transport network to cope with the massive increase of traffic during the Games.
Currently, there are 3.5m journeys a day on the Underground. Another 20m trips will be made by spectators alone during 2012, with 3m on the busiest day.
'Work from home'
A report by the London Assembly's transport committee earlier this year said travel problems were one of the biggest risks to London 2012, with extra traffic piling "extreme demand on a network already creaking at the seams".
TfL has warned that at the busiest times, extra pressure on the transport network will result in delays of more than an hour at "hotspots" like London Bridge or Stratford.
Similar delays are expected along Underground routes key for travel to the main Olympic events in Stratford - such as the Jubilee and Central Lines.
"On one or two of the days [London Bridge] will be very, very crowded and the best thing to do if you happen to be here on the day of the equestrian event in Greenwich is to have a beer before you go home because you won't be able to get into the station before then," Mr Hendy told the committee in a Q&A session at London's City Hall.
TfL has also admitted that "Games Lanes" - dedicated lanes for Olympic athletes and VIPs on major roads - would put greater traffic demands on certain parts of the network.
Organisers aim to reduce the amount of normal traffic in London by a third throughout the Games, and are asking businesses and commuters to:
Stagger the start and finish times of working days
Provide facilities for staff to work from home or use conference call facilities
Stock up on non-perishable goods well ahead and arrange earlier or later delivery times
Encourage staff to to cycle and walk to work
"We are on track to get all athletes, officials and spectators to their events on time and to keep London running," said Mr Hendy.
He added that 400 London businesses with more than half a million employees had signed up for travel advice from TfL to plan ahead of the Games.
TfL is providing detailed transport information through a website which will provide hotspot maps, postcode information and case studies to help businesses plan how they will cope with the increase of traffic on London roads, and because of the capital's restricted traffic measures caused by the Games Lanes on the 109-mile Olympic Route Network.
London 2012 also provides information to help businesses plan ahead on its website.
London Mayor Boris Johnson said last week the capital's transport system was "being transformed", adding that the city's plans were far ahead of any other host city at this stage before the Games.
Some £6.5bn is being invested in improving transport links to keep London moving during the Olympics, including an expansion of the Jubilee and Dockland Light Railway lines and increased DLR services to Woolwich, which will ultimately extend to Stratford International.
London 2012 organisers are aiming for 100% of spectators to travel to events venues by public transport, walking or cycling, with 80% of ticket holders expected to use the capital's rail and Underground networks.
Some 8.8m tickets were available for the Olympics - which run from from 27 July to 12 August, and 2m for the Paralympics, which start on 29 August and end on 9 September.