What prospects for the young unemployed?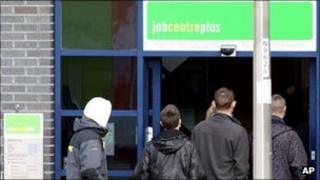 The number of young people out of work has reached a record high of almost one million, according to the latest unemployment figures. But what are the prospects for those under the age of 25 and without a job?
The youth unemployment total, which includes people in full-time education who are available and looking for work, increased by 74,000 to 991,000 between June and August.
Trained chef Rhys Harrison, 24, from Pontypridd, Rhondda Cynon Taff, has been unemployed since June.
He said: "I apply for jobs every day, and I'm registered with an employment agency but they don't ring me with any work.
"I've been unemployed before so I know how to deal with it, but it's worse for the 16-year-olds coming out of college. You end up with kids standing on street corners with nothing to do and getting into trouble."
During the time he was in employment, he said he worked with young people who were waiters despite them having qualifications in fields such as astrophysics and medicine.
'Terribly frustrating'
Paul Henman, 24, from Luton, has two degrees but is failing to get any type of job at all.
He said: "I've been looking for a job for six to seven months. It is terribly frustrating, I'm not even looking at the industries I have degrees in as they have been hit hard by the recession.
"I want nothing more than to work. I have applied for sales positions in the retail industry, where I have eight years' experience, but I cant even get an interview."
Thomas Carey, 20, from Liverpool, is on the government's Work Programme scheme after struggling to find employment.
He said: "I left college and have not had a job since. The job centre is a hopeless, depressing place.
"I live in the Walton area of Liverpool where unemployment is way above the national average at 8.1%. I have now been placed on the Work Programme.
"I will have to see what change and difference it will make. I have been on the old schemes Labour introduced, which ultimately did not get me a job. I just now hope the new programme can help me."
Helpline calls
Martin Pennington, interim chief executive of the Association of Graduate Careers Advisory Services, said the youth unemployment situation was a "concern for everyone".
He said statistics backed up stories about some university leavers taking jobs for which they were greatly overqualified.
But he added it was often a short-term situation for the individuals concerned and a stepping stone to something better.
"Graduates feel the jobs market is tight at the moment," he said.
"There is an issue in the way it's played out in the media and what that can often lead to is a feeling there's no point to applying for a job, but actually it's not as bad as that.
"I'm not in anyway trying to undermine the seriousness of the problem but particularly graduates do need to remember that they have advantages in the jobs market."
Youth charity The Prince's Trust said calls to its helpline had more than doubled in the past six months.
Chief executive Martina Milburn said: "The number of unemployed young people is now almost twice the population of Manchester.
"If we fail to tackle youth unemployment now, we risk losing this talent forever which would be a tragedy."
Live at home
The campaign group Youth Fight for Jobs is conducting a 330-mile march of young unemployed people from Tyneside to London calling for more help for the jobless youth.
They will arrive in the capital for a demonstration next month.
The protest echoes the Jarrow March of 1936 when 200 jobless men marched to London.
Youth Fight for Jobs said even those who were well qualified today were feeling the pressure, with 83 graduates for every graduate vacancy.
Claire Laker-Mansfield, from the group, said: "I recently graduated from university and most of my friends are doing anything they can to get a job.
"Many people with a good degree are working in a supermarket on the minimum wage while they've got £20,000 of student debt which they can't pay off because they're not earning enough."
She said a lack of a job and cuts in housing benefits were "infantilising a generation" by forcing many young people to live at home with their parents.
"A lot of young unemployed people feel they get a bad press. They're labelled as lazy or scroungers, but the vast majority want the opportunity to work and do something positive for society," she said.
"They want the opportunity to have a job and but they feel it's something that's being denied to them.
"Applying for hundreds of jobs and not even getting as far as an interview - the frustration that that brings because you know you could be doing a job."