Retiring Supreme Court president defends human rights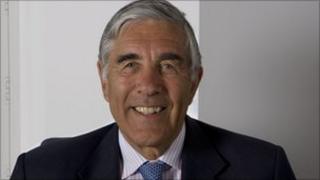 The founding president of the UK's Supreme Court, Lord Phillips, has defended the Human Rights Act as he announces his retirement.
Lord Phillips, who has presided over the new court's first two years, said human rights were misunderstood because of a focus on extreme cases.
He defended such rights just days after cabinet ministers clashed over an illegal immigrant's cat.
Lord Phillips will retire next summer, earlier than planned.
The 73-year-old judge, who could have remained in post until January 2013, said he wanted to leave early to allow an "orderly handover" to his successor during the summer legal recess.
In a BBC interview, he defended his court's role in upholding the European Convention of Human Rights and the Human Rights Act.
He said judges were only doing what Parliament had asked of them - upholding the rule of law.
"The way that the courts deal with people's rights is by applying the law that enacts those rights," he said.
"That law is the law that Parliament enacts. We apply the human rights act because that is what Parliament has instructed us to do."
Last week, Home Secretary Theresa May said she wanted to see the end of the Human Rights Act, and cited a case in which an illegal immigrant could not be deported because he had a cat.
Senior judges immediately issued a statement saying the case in question had nothing to do with the man's cat - prompting Justice Secretary Ken Clarke to criticise his party colleague.
Lord Phillips said: "I think there are a lot of misconceptions about the effect of the Human Rights Act.
"The Human Rights Convention and the Human Rights Act have both been a force for good. And I don't think that anybody is suggesting that one simply scraps human rights.
"If the law is going to be changed, something will be put in its place. I don't think the government is suggesting that they are going to try to tear up their obligations under the convention."
Candidates
The process to appoint Lord Phillips' successor will begin in the New Year. One possible candidate is Baroness Hale, a fellow Supreme Court justice who has pioneered the development of family and children's rights in British law.
Another is Lord Neuberger, a former Law Lord and currently the Master of the Rolls, the second most senior judge in England and Wales.
The UK's Supreme Court was set up in 2009 to replace the Law Lords. The aim was to emphasise the separation between Parliament's lawmakers and the judges charged with overseeing legislation.
It is housed in its own building opposite Parliament, unlike its predecessors who sat in the House of Lords.