Newspaper review: Archbishop praised for Zimbabwe trip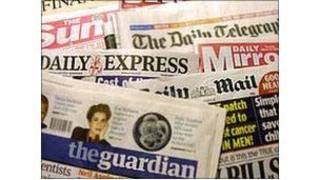 The Archbishop of Canterbury's trip to Zimbabwe to demand an end to the persecution of Anglicans has been praised by the papers.
The Independent thinks Dr Williams was brave to "enter the lion's den" by requesting a meeting with President Mugabe.
The Times says it was worried that Dr Williams risked handing a propaganda tool to tyranny.
But, it says, Dr Williams has shown he "is made of stronger stuff."
'Good intentions'
The Sun praises David Cameron's speech on immigration, saying: "It's a topic that calls for a calm head and wise words, and he had both".
The Daily Telegraph welcomes plans to make forced marriage a criminal offence and says it's extraordinary that that's not the case already.
The Daily Mail said it was a speech "full of good intentions" but wonders when there will be any impact on the numbers coming in to the UK.
'Not over'
The Independent is calling for Defence Secretary Liam Fox to "resign or be sacked" over his working relationship with a friend.
The Daily Mirror says if Mr Fox was in the military, which demands strict discipline, he'd get his marching orders. However, it believes a competent display in the Commons has bought him time.
The Daily Telegraph says he's "safe for now" but warns "it's not over yet." The Guardian says he "is still battling to save his ministerial career".
Accidental marathon
The papers applaud Paulo di Canio, the manager of Swindon Town Football Club, after he accidentally ran a half marathon.
The Italian had agreed to join the town's two-mile fun run. However, according to the Daily Telegraph, he took a wrong turn, and ended up joining runners in the half marathon.
In the Daily Mail, di Canio said: "I couldn't stop, there was a challenge."
"At the end I was very happy because I finished without stopping," he added.