BNP leader Nick Griffin 'ordered fake EU invoice'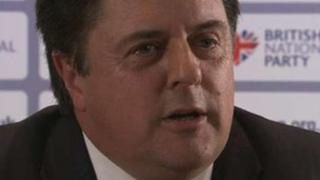 BNP leader Nick Griffin ordered a former official to fake an invoice which was relied on to mislead the Electoral Commission over EU money, it has been claimed.
The accusation, made to BBC Panorama by the party's former treasurer, relates to a £4,000 surplus from a £10,000 EU grant for a bus trip to Brussels.
Security and research costs were fabricated to cut the surplus, as the BNP feared it had to repay the money.
Mr Griffin denied giving the order.
He said he would investigate the claim.
The programme obtained evidence that Mr Griffin, elected as an MEP in 2009, ordered then party treasurer David Hannam to inflate fictional costs so that the party could keep as much of the European grant money as possible.
Fictional spending
In an email to Mr Hannam, Mr Griffin wrote: "Good but decrease surplus some money (sic) to party further, we don't want to be paying more than a few hundred back in the current climate. Amend accordingly and send back to me for approval. N"
Mr Hannam told the BBC that the email was an instruction to him to falsify an invoice.
Mr Hannam died on 2 October. He had been speaking to Panorama in secret about the BNP's activities. His family have consented to allow the programme to now name Mr Hannam as a source.
In a written response to Panorama, Mr Griffin said: "I most definitely did not order Mr Hannam to produce false invoices, and note that this allegation has only surfaced after his death. Several members of my staff had full access to my email account and could send emails apparently from me."
The BNP gave details of the fictional and inflated costs to the Electoral Commission, which accepted their account of the spending without seeing the faked invoice.
The Electoral Commission has confirmed to Panorama that this was the basis upon which they closed their review into the European grant.
The accusation about the faked invoice comes as the BNP is under investigation by both the European Union and the Metropolitan Police following allegations of fraud and breaches of electoral law. The BNP has strenuously denied any wrongdoing.
The party is struggling to reduce debts run up during the 2010 general election campaign.
Internal party documents show that 12 months ago the BNP owed creditors more than £570,000. Party chairman Nick Griffin recently claimed that the party now owes just £52,000.
Panorama: BNP - The Fraud Exposed, BBC One, Monday, 10 October at 2030BST and then available in the UK on the BBC iPlayer.