Bill Bratton to advise at UK gang conference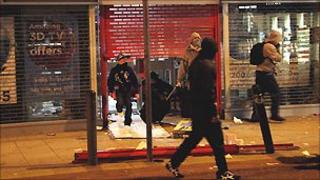 Bill Bratton, the so-called US supercop, will be in the UK this week advising the British government on how he dealt with gangs in LA - advice David Cameron's government sought in the wake of the summer riots.
Policing legends don't come much bigger than Bill Bratton.
"Finally, We're Winning the War Against Crime," declared Time Magazine in 1996, featuring Bratton on the cover when he was commissioner of the New York Police Department.
When he ran the LAPD, crime and murder rates plummeted.
Now Bill Bratton is coming to Britain - and not as head of the Metropolitan Police Force, despite mid-summer press speculation that he was David Cameron's preferred candidate for the job.
This quietly spoken, anglophile 63-year-old, whose Boston accent hasn't been smothered by years in New York and LA, will be in the UK for a week advising the government on dealing with gangs.
In the aftermath of the summer's riots in England, the home secretary, Theresa May, said more had to be done to tackle gang culture - something Bratton knows a thing or two about after his tenure in LA, where there are 400 gangs.
"I'd like to be able to offer whatever I can to help the British government as they move forward with their efforts to mitigate what could be a growing problem if it's not stopped," Bratton says, sitting in his spacious Manhattan office which displays, among many other awards, the CBE he received for promoting transatlantic police cooperation.
Bratton is now chairman of Kroll, where he advises companies and governments on their security.
The veteran police chief will tour British cities with gang problems and then attend a Home Office conference on the subject on Thursday.
"What we're trying to do is share ideas that have worked here as it relates to gangs and see if they'll work in the British environment. I think many of them would," says Bratton, who has strong views on what doesn't work.
"You cannot arrest your way out of the gang problem," he insists.
"The most significant tool the police have, the most intimidating tool, is the ability to arrest. Gangs in this country are multi-generational - and a focus largely on arrest tactics alone clearly did not work, gangs got larger, violence that gangs committed increased."
So what did work?
Community policing
"The good news is that over the last few years we have identified a lot of things that will reduce gang violence," he says.
"Gang injunctions - that's the use of civil law to prohibit the gathering of gangs and gang members in certain locations and at certain times.
"Gang interventionists have become a very useful tool for the LAPD. These are former gang members trying to turn their lives around, the police have begun to work very closely with them. They are very effective in reducing gang violence, a lot of which is usually retaliation for other gang violence."
Bratton is also a strong believer in community policing.
When he took over the NYPD, the police had lost touch with the public.
"The failed philosophies of the 70s and 80s really believed the police could not do much to prevent crime, our role was to respond to crime that had already occurred," he explains.
"Community policing is the philosophy that saved America in the 1990s, I truly believe it," Bratton expands.
"It's about partnership, the police working with the community, focussing on the problems that are creating fear and disorder and prioritising them."
The mere suggestion of Bratton as head of the Met provoked hostility from some leading British police officials.
Sir Hugh Orde, president of ACPO , said it was "stupid" to reach across the Atlantic since America's policing style and gun culture was so different from Britain's.
Clearly irked, Bratton told the Financial Times this remark diminished Orde's credibility.
On the eve of his visit to Britain, Bratton is in diplomat mode, careful to pay homage to Sir Robert Peel, father of modern British policing.
"The Brits created the idea of preventive policing - Peel was with the idea that the British bobby in his uniform, by his presence in the neighbourhood, his awareness of who's who, would prevent crime."
As he watched the UK riots unfold this summer, Bratton was struck by the timing.
'Sense of belonging'
"The good news for Britain is that this occurred this year rather than next year.
"It was so spontaneous, so unexpected, that if it had occurred during the middle of the Olympics, with the police being focussed on crowd control and terrorism related issues, the ability to respond to something of this magnitude would have been very problematic."
Bratton believes the learning experience of dealing with flashmobs and social media will help Britain's police plan for every eventuality as they prepare to police the Olympics.
As he prepares to cross the Atlantic, the cop who tamed the rotten Apple reflects on how Britain is half a generation behind the US in experience when it comes to dealing with gangs.
In a fragile global economy, he can't see gang membership declining any time soon.
"Kids join gangs to have a sense of belonging, to have a sense of being cared for - things that normally other activities in society provide, school, a job, good family life.
"When those things are not in place kids are going to naturally gravitate to where they can find that and, unfortunately, gangs offer that to them."