Payday loans debt quadrupled, advisory service says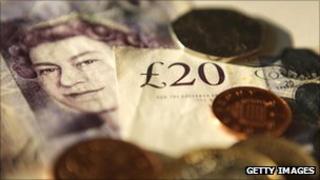 The number of people running into debt through so-called payday loans has quadrupled in two years, according to one debt advisory service.
Payday loans are small, short-term unsecured loans designed to tide people over until they get their salary.
The Citizens Advice Bureau says it is too easy to obtain such credit and is calling for tighter regulation.
But Consumer Minister Ed Davey said tougher measures could push people into the hands of illegal loan sharks.
For many people a payday loan is a quick and efficient legal way of getting hold of short-term credit.
If the money is paid back promptly on the next pay day, this type of lending can be cheaper than paying an unauthorised overdraft or a credit card charge.
However, if the loans - some charging interest rates of more than 4,000% - are rolled over, debts can quickly escalate.
'Not acceptable'
Peter Tutton, from the Citizens Advice Bureau, said ministers need to take action.
"The sort of regulatory regime isn't working to protect people, so there's work for the government to do.
"The government needs to look at consumer credit and get really serious about making it more effective.
"We need better sorts of messages to firms that it's not acceptable to treat people badly," he said.
The government said it is carrying out research but is not sure the answer is a cap on payday loan interest rates.
Mr Davey said: "In the last government - the Labour government looked at capping interest rate costs of credit three times.
"And the last Labour government rejected it three times because they were concerned that they would push vulnerable consumers into the hands of these illegal money lenders who are really the nasty of the nasty."
'Temptation'
The head of the Finance and Leasing Association, Stephen Sklaroff, said it is up to consumers to only borrow what they can afford to repay.
"There's a responsibility on the borrower, as well as on the lender, to make sure that all the information is on the table," he said.
But Marcus Painton, from Aylesbury, who got into debt through payday loans said the "temptation" of the loans can be "too much".
"It's the simplicity of it all, really. You can get in deep really quickly, which is what we did.
"They just take you for everything they can get. They're not concerned about your general circumstances. They just want their money, which is fair enough, but doesn't help you personally," he said.
Steve Perry, who took out 64 loans from 12 different companies over 18 months, leaving him with a debt of £22,000, told the BBC it was the "roll over loan process" that needed to be tackled.
"The repeat loans where people are going back month after month, either paying off in full and borrowing again or paying the interest only on a loan.
"People can do this for up to twelve months, every single month, this is what's really trapping people," he said.