Newspaper review: Liam Fox's friend comes in for scrutiny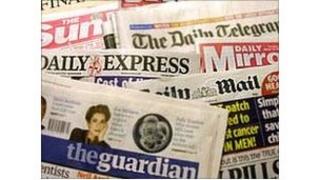 The papers are filled with the latest allegations about the Defence Secretary Liam Fox's friend Adam Werritty, whose links to the cabinet minister are being investigated by a senior civil servant.
The Independent says he arranged a meeting for Dr Fox with a company that wanted to sell technology to the Ministry of Defence - and no ministry officials were present.
The Times prints an image of a business card, which suggested Mr Werritty worked in Dr Fox's office at the House of Commons.
The Guardian says he ran a right-wing charity from Dr Fox's room at Portcullis House, opposite the House of Commons.
The charity, Atlantic Bridge, worked with a firm of US lobbyists, it says.
The Daily Telegraph says the defence secretary let Mr Werritty stay in a spare room at his expenses-funded flat.
'Time for answers'
It is "time for some answers" says the Independent, which says Dr Fox is proving to be a liability for a government priding itself on presentation.
The Telegraph says the value of private pensions are 30% what workers would have received had they retired three years ago.
The paper says accountant PricewaterhouseCoopers believes those about to retire will be stuck "between a rock and a hard place", deciding whether to delay claiming their pension until market conditions improve.
A pensions expert in the Independent argues the extension of the Bank of England's quantitative easing programme will worsen the pensions problem.
The Financial Times says the communications regulator Ofcom is delaying the auction of the next generation of mobile phone licences by at least six months.
'Cold snap'
The main story for the Daily Express is an impending cold snap, which it believes will see temperatures as low as minus 20 celsius in parts of Britain within weeks.
The paper says local authorities are already stockpiling thousands of tonnes of extra grit for a record-breaking winter.
The Sun and the Daily Mirror lead with the news Sir Paul McCartney will marry his fiancee Nancy Shevell on Sunday.
The Daily Mail pictures workers building the marquee in Sir Paul's back garden, where the couple will have their reception, after tying the knot at the same London register office where the former Beatle married his first wife Linda.
"Let it three" is the Sun's headline, as it reminds its readers how many marriages this will be for Sir Paul.