Libyan Sami al Saadi to sue UK over rendition claims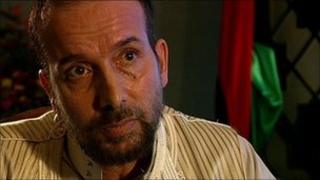 A Libyan man who claims MI6 arranged to send him home to be tortured in Colonel Gaddafi's jails has begun legal action against the UK government.
Sami al-Saadi, a member of a Libyan mujahideen group opposed to Gaddafi, is claiming damages for the ordeal he, his wife and four young children suffered.
CIA documents recently found in Tripoli provide evidence of the UK's alleged involvement in the 2004 "rendition".
The UK Foreign Office confirmed it had received "pre-action" legal papers.
Mr al-Saadi's law firm, Leigh Day & Co, has brought a claim against MI5, MI6, the Attorney General, the Foreign Office and the Home Office for their alleged complicity in his rendition from Hong Kong to Tripoli.
'Handcuffed'
It is seeking damages for his "subsequent unlawful detention, torture, inhuman and degrading treatment, batteries and assaults perpetrated by the Libyan authorities".
Mr al-Saadi said he was separated from his family and imprisoned on reaching Libya. He claimed he saw his young daughter lose consciousness and his wife "screaming as they were handcuffed".
His children were aged six, nine, 11 and 13 at the time.
Richard Stein from Leigh Day & Co said: "Mr al Saadi's case throws a direct spotlight on to the actions of the British who appear to have been embroiled in his rendition to Libya when it was clear he would face almost certain torture.
"This legal action will ensure that the full truth behind Mr al Saadi's experience, and that of his young family who were also rendered and imprisoned, is revealed."
He said it would expose "just how high up the chain of command these illegal activities were sanctioned".
Cori Crider, from human rights group Reprieve, said the Metropolitan Police must now launch a full investigation focusing on "the highest levels of government and the intelligence services".
A UK Foreign Office spokesperson said: "We can confirm that we have received a pre-action claim letter from Leigh Day & Co representing Mr Sami Al-Saadi.
"The government is considering the letter and will reply in due course. It would not be appropriate to comment further at this point."