Abramovich good at psychology, Berezovsky tells court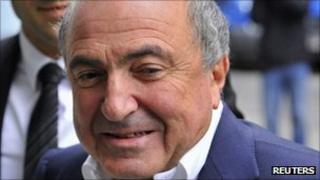 Chelsea Football Club owner Roman Abramovich is good at psychology, appearing humble and getting people to like him, a High Court judge has heard.
Boris Berezovsky, 65, said his former business partner "intimidated" him into selling shares in Russian oil firm Sibneft for a fraction of their value.
The Russian oligarch is seeking £3bn in damages from Mr Abramovich for an alleged breach of trust and contract.
Mr Abramovich, 44, disputes the claims and denies making "oral agreements".
In a written witness statement given to the judge at the Commercial Court, Mr Berezovsky said: "He [Mr Abramovich] is good at getting people to like him and good at psychology in that way.
'Pressure'
"He is good at appearing to be humble. He is happy to spend days just socialising with important or powerful people if that is what is needed so he can get closer to them."
When questioned by Mr Abramovich's lawyer Jonathan Sumption QC about his own past, Mr Berezovsky admitted he was one of the most politically-influential oligarchs in Russia in the mid 1990s.
But he denied any underhand dealings, telling the court: "I am not corrupt. I didn't corrupt anybody."
He also denied "fixing" an auction of Sibneft following its privatisation, and putting "pressure" on the then Russian president Boris Yeltsin.
"My way is not to make pressure," he said. "My way is to persuade and to explain why it is important to do."
Mr Abramovich watched proceedings from the public gallery as Mr Berezovsky began giving evidence to the judge, Mrs Justice Gloster, on the fourth day of proceedings.
The trial is expected to last more than two months.