Hacking 'not due to sales pressure'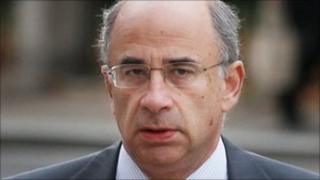 The phone-hacking scandal cannot be blamed on pressure to produce big stories, a former News of the World editor has said.
Phil Hall, who edited the paper from 1995 to 2000, said competitive pressures on newspapers had not led to a drop in standards.
He was speaking at a seminar for the Leveson Inquiry, part of the inquiry into media ethics and phone hacking.
Pressures felt by reporters were due to "professional pride," he said.
Mr Hall said hacking had happened because a group of people had "indulged in illegal activity" and the checks that should have been in place had failed.
He told the seminar, held at the QE2 Conference Centre in Westminster, he was never under pressure from owner Rupert Murdoch to boost the circulation figures of the News of the World.
"There was no pressure to achieve the unachievable. The pressure was to deliver a great campaigning newspaper."
And he said the idea that editors were pushing for big stories to boost circulation figures was "simplistic".
"Some of our biggest stories - the Jeffrey Archer case, for example - delivered no increase in circulation.
"Yes, we broke big stories but it was not the be all and end all of the operation."
Pre-planned
Richard Peppiatt, a reporter who resigned from the Daily Star earlier this year after working at the paper on a casual basis, said tabloid newsrooms were "bullying and aggressive environments in which dissent is often not tolerated".
He claimed stories were often pre-planned, with reporters expected to get facts to fit in with the story.
"The question is not, 'do you have a story on X', the question is 'today we are saying this about X, make it appear so'," he said.
But some editors questioned Mr Peppiatt's claims in a discussion which followed the seminar, with Richard Wallace, editor of the Daily Mirror, saying he did not recognise the description of national newspaper newsrooms.
There was also agreement with Mr Hall, that commercial pressures had not led to a drop in standards.
Ian MacGregor, editor of the Sunday Telegraph, said: "I don't think anyone here would ever make an excuse that commercial pressures are changing the way we operate in terms of our integrity."
Press Association editor Jonathan Grun said: "All of us want to be first with a story but, first of all, all of us want to be sure that the story is right."
Press freedom
In a second seminar, on the Rights and Responsibilities of the Press, Guardian editor Alan Rusbridger discussed the importance of a free press.
"When people talk about licensing journalists the answer should be to look at history," he said.
He encouraged the inquiry to remember "how the freedoms won here became a model for much of the rest of the world", and "how the world still watches us to see how we protect those freedoms".
Trevor Kavanagh, former political editor of the Sun and now an associate editor, said: "Without free speech we cannot have a free society, once lost it would be almost impossible to restore."
He said it was in the public interest for newspapers to be able to assess the character of national figures.
"If people are seeking our votes or our cash, it is surely right that we should know if they are masquerading as someone they are not."
In a discussion on Conditional Fee Agreements - no win, no fee cases - Mark Lewis, solicitor for the family of murder victim Milly Dowler, whose phone was hacked by the News of the World, said they were an important tool.
"Everybody knows that they should not have hacked Milly Dowler's phone, everybody knows the cases that have come out in the last couple of days," he said.
"That is nothing to do with ethical considerations, it is to do with access to justice so people are able to fight back, to defend themselves by pursuing a claim."