Steve Jobs death: Flowers and eulogies at flagship store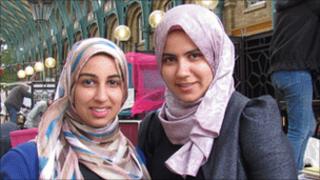 As news of the death of Steve Jobs began filtering through the very devices he created, people began paying some very personal tributes to the Apple visionary.
A single bunch of flowers - still in their plastic wrapper - were the only outward sign of the passing of Steve Jobs outside Apple's flagship London store in Covent Garden.
Earlier, a young man in a suit had stuck a Post-it note on the window which read: "Rest in Peace Steve Jobs, you'll never be forgotten" - but staff had already removed it by the time they opened up.
The corner plot of this famous plaza was unusually quiet, but the impact of the Apple boss's death was having an effect on people - albeit personally.
'Lump in throat'
Ginnie Leatham, a brand director in the media industry, from West Sussex, hand delivered a single red Gerbera to staff inside the store.
She said: "I was really sad when I woke up this morning. I had a real lump in my throat and felt quite tearful.
"I was thinking about it on my commute into work. I always walk past the Apple store and I just thought 'I'm going to stop'.
"I bought a single flower and took it in. I just felt I wanted to say something. I gave it to one of the staff, and they said 'thank you very much' and looked sad too."
She added: "It's not often in your own lifetime that you can really say there's someone who's changed things, changed the way we live, the way we play, the way we enjoy ourselves."
Inside the store itself, there were no clues that Apple had lost its pioneering leader.
A pair of sisters said they only found out by chance by reading the news on an iPad inside the store.
"It was quite strange. I felt slightly uneasy because just finding out someone died makes you feel a bit weird, and it is quite sad," said 20-year-old medical student Asmah Abdul-Hamid.
"But the staff don't seem to be showing it. I thought they'd at least wear something black or maybe have a black ribbon tied around. It's as if nothing happened."
'iPhone inspiration'
Her sister Ayeshah, also a medical student, said the Apple boss was "inspirational" to have continued working for so long despite the impact of his pancreatic cancer.
App developer Christopher Anderson, 33, from Clapham in south London, said he owed his entire career to the vision of Steve Jobs.
"When the iPhone came out I started developing apps and now me and a friend run a business off the back of that, so it's had a big effect on me," he said.
"I hope that his vision can continue. I think they've made great inroads to try and keep that going but long term - maybe five or 10 years - I don't know. It's difficult to know what will happen."
He added: "You do need that kind of visionary to push things forward like that.
"If you look at other companies, like Google that doesn't have that, you can see the differences, so I do think he's very important."
Janice Hine, from Waterloo, also paid tribute to the Apple founder but said the price of some of the products and her lack of interest in technology had put her off using them.
"I just thought it was a great loss from somebody who had contributed so much to so many Apple users' daily lives and who was instrumental in such great design," she said.
"Everybody is always two steps behind, he's the man of the moment."
Stuart Hall, 45, a consultant in the electronics industry, added: "He's a giant. He's an innovator, a creator and he's a truly unique person. All in all there's a compelling person."
Wayne Meikle, 51, who runs a software business, read about the death of Mr Jobs on his iPad as he headed to the store to get his Mac fixed.
The news, which broke at around 02:00 BST, did not make any of the print editions of the UK national newspapers.
"I saw it on the front page of the [electronic] Times before I saw it on the usual online and Twitter," he said.
"He's a visionary, an obsessive compulsive personality obsessed with the detail - and he's made a difference.
"You look around. On the train this morning the number of people using iPads, for example. In terms of consumer technology it's changed the landscape dramatically."
Mr Meikle, from Sevenoaks in Kent, added: "There was the quote from the Disney guy, who said it was like he [Jobs] was just getting started.
"One rather hopes the machine he's left behind can continue that disruption."