National Trust membership soars to four million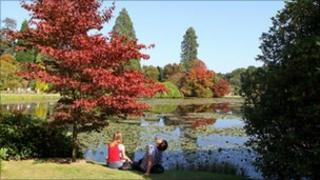 Membership of the National Trust (NT) has reached four million for the first time, the organisation has said.
Founded in 1895 with 100 members who paid 10 shillings, membership reached one million in 1981, two million in 1990 and three million in 2002.
The NT cares for more than 300 historic houses, more than 600,000 acres of land and 700 miles of coastline.
Membership provided £120 million in the last financial year to support "vital" conservation work, the Trust said.
In total, 90 million visits are made to National Trust houses, gardens and countryside in England, Wales and Northern Ireland each year.
'Intriguing places'
NT director general Dame Fiona Reynolds, said there was "clearly a growing hunger" for what the Trust had to offer.
She said: "In England you are never more than 40 minutes away from somewhere looked after by the National Trust.
"From the smallest sculleries and garden grottoes to towering castle turrets and the wild expanses of Lake District countryside, the National Trust enables everyone to enjoy these beautiful, intriguing and exciting places forever."
Dame Fiona said the organisation owed a "massive thank you" to members for their support.
She added: "We were set up 116 years ago to look after special places so that they could be enjoyed by all. Clearly that founding aim remains as relevant today as it was then."
The National Trust is leading a campaign against the government's proposed changes to the planning laws.
It has said the plans threaten to put short-term economic gain ahead of all other considerations, including the impact on local communities and local green spaces.
The National Trust of Scotland, which celebrates its 80th anniversary this year, currently boasts 308,000 members.