London Tube rule change allows guide dogs on moving escalators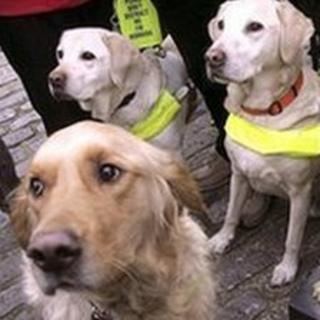 Guide dogs will be allowed on moving escalators on the Tube for the first time under changes to a bylaw, it has been announced.
Transport for London (TfL) said it had been advised for years that dogs should not be allowed to use moving escalators to prevent injuries.
Passengers had to carry dogs or use lifts or stairs instead.
But recent research has proved that dogs can be trained to use a moving escalator.
The rule banning dogs on escalators dated back to the days of wooden escalators and fears that dogs could get their paws caught.
'Antiquated bylaw'
Although Tube staff would often provide assistance to visually impaired passengers, including by stopping escalators where possible, the official line was that this may not be possible "at busy times" in case it caused overcrowding.
But research carried out by The Guide Dogs for the Blind Association has shown once guide dog owners are trained, they will be able to safely use escalators.
The charity will now carry out a training course for Guide Dogs users to learn to use the escalators safely.
The change, which comes into effect this week, will also apply to the Docklands Light Railway and London Overground.
A TfL spokesman said: "It was not always practical for disabled passengers with an assistance dog to carry them on escalators, particularly if the person was visually impaired."
Oliver Barton, client services manager at Guide Dogs for the Blind, said: "Once guide dog owners are trained, they will be able to safely use escalators if they provide the only means of accessing TfL managed stations."
London Mayor Boris Johnson said: "The modernisation of this antiquated bylaw helps make the Tube more accessible for all."