Pirate violence targeted by worldwide campaign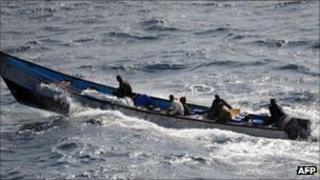 A worldwide campaign to help the victims of piracy at sea has been launched in London's Docklands.
The organisers of the Maritime Piracy Humanitarian Response Programme (MPHRP) say the campaign is in reaction to rising levels of violence and cruelty committed by Somali pirates against captured sailors.
Chairman Peter Swift said piracy was reaching "an all-time high".
The campaign launch also coincides with World Maritime Day.
Mr Swift said piracy was increasing "in the number of incidents, in the vast ransoms demanded and, most of all, in the extreme violence used.
"The treatment meted out to victims now frequently crosses the line from savagery into torture."
Somali pirates, frustrated when their ransom demands are not met fast enough, can inflict punishments on ordinary seafarers which include being locked in a ship's freezer, dragged below the hull, or tied up on deck with a gun to their heads and subjected to mock executions, sometimes during a forced phone call to their families.
'Save yourselves'
The MPHRP campaign is focusing on helping the victims of maritime piracy and their families, many of whom suffer lifelong trauma.
It aims to support seafarers through what is termed the three phases of a piracy incident - pre-departure, during the crisis and post-release.
Organisers say the level of aftercare given by employers varies enormously, from being flown home and given counselling to being told: "We can't pay you for the last few months while you were hijacked because you weren't doing any work."
Attending the campaign launch is Chirag Bahri, a 29-year-old engineer from India who was held for eight months last year and subjected to torture by his pirate captors.
"We were taken up to the bridge deck and we were tied up with plastic bags, ropes, nylon ropes for four hours, and even the genitals were tied up," he said.
"They start beating up us, shouting: 'Save yourselves, save yourselves otherwise we'll kill you, tell us where the satellite phone connection is.' So that's how they used to torture us for everything."
More than 300 sailors and 18 vessels are currently being held to ransom in Somali territory.
About 20 sailors from three different vessels are also being held on land, a new tactic by the pirates, who sometimes hold onto crew members after releasing the ship.
A British tourist, Judith Tebbutt, who was abducted from a beach resort in Kenya on 11 September, is also believed to be being held by pirates on the Somali mainland.