Thousands of foreign students reported over visas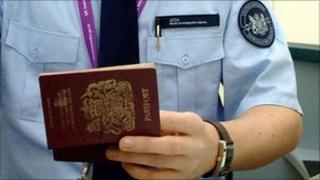 Academics are reporting more than 1,500 foreign students a month to immigration officials over suspicions about their UK visa status, figures show.
At least 27,121 migrants were reported to the UK Border Agency by universities and other foreign student sponsors between March 2009 and August 2010.
The figures were released to the Manifesto Club campaign group under the Freedom of Information Act.
Some 228,000 foreign students came to the UK to study last year.
Three in four of these come from outside the EU.
In its Students Under Watch report, the Manifesto Club, which campaigns against regulation, said strict visa controls were forcing academics to spy on students, eroding academic autonomy and damaging relationships between students and staff.
Proportionate system
Josie Appleton, the group's director, said: "Academics are not border agents, and they should not be dragooned into spying on their students.
"The UKBA now has rights of entry to any university campus, which is a major threat to academic autonomy. We call for a more proportionate system, which recognises the historic autonomy of the university."
The University and College Union, which represents academics said the relationship between staff and students was incredibly important.
Its general secretary, Sally Hunt, said: "It is built on trust and must not be jeopardised by fears that lecturers may be spying on students.
"Successive governments have had plans to turn lecturers into spooks overwhelmingly rejected by the academic community."
In July, MPs accused the government of rushing plans to curb student visas, saying they could harm the economy.
'Widespread abuse'
The Home Affairs Select Committee said that it was concerned that official figures indicated the restrictions could cost the economy £3.4bn.
Officials estimate the measures will cut net migration by 230,000 by the end of the current parliament.
But immigration minister Damian Green said the changes were introduced after full and extensive consultation.
A UKBA spokesman said: "There has been widespread abuse of the visa system for too long and we have made radical changes in order to make the system more rigorous and accountable.
"We expect education providers who are sponsoring foreign students to make the necessary checks."