Amanda Knox is no femme fatale, defence lawyer says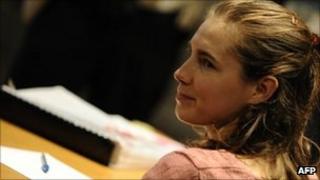 Amanda Knox, the student convicted of killing her British roommate in Italy, may have "femme fatale" looks but is not a killer, a defence lawyer says.
Giulia Bongiorno compared the 24-year-old American to Who Framed Roger Rabbit cartoon character Jessica Rabbit.
Paraphrasing a line from the film, she told the appeal hearing Knox was "not bad" but "just drawn that way".
Along with ex-lover Raffaele Sollecito, Knox is trying to overturn the guilty verdict over Meredith Kercher's murder.
The pair were convicted of murdering Ms Kercher, a 21-year-old exchange student from Coulsdon, south London, in 2007.
Knox was sentenced to 26 years in prison, while 27-year-old Italian Sollecito was given 25 years.
Defence lawyers also showed the jury video footage said to prove that the police mishandled the crime scene at the house where Knox and Miss Kercher were living.
Ms Bongiorno, who is Sollecito's lawyer, made her comments about Knox as the defence began their closing arguments in the case.
She told the court: "We can easily compare Amanda Knox to Jessica Rabbit, as in the movie Who framed Roger Rabbit, because she looks like a femme fatale but she is a loyal and loving woman. Jessica Rabbit says 'I'm not bad. I'm just drawn that way.'"
Ms Bongiorno also argued that DNA traces relied on by prosecutors in the original trial were discredited, and so there was now no evidence linking Sollecito to the crime.
The comments came a day after after another lawyer described Knox as "diabolical" and "a witch of deception".
Carlo Pacelli was representing Patrick Lumumba, a barman seeking damages from Knox as part of a civil case which forms part of her appeal against the 2009 murder conviction.
Mr Pacelli also said: "Who is Amanda Knox? Is she the mild-looking, fresh-faced person you see here, or the one devoted to lust, drugs and alcohol that emerges from the court documents?"
During the initial investigations, Knox had accused Mr Lumumba of killing Ms Kercher.
Knox and Sollecito have spent almost a year appealing against their convictions, and a verdict in the case is expected by early October.
A third person - Rudy Guede, 21 - was also convicted of Miss Kercher's murder in a separate trial and is serving a 16-year term.
Guede also denied wrongdoing but his conviction has been upheld on appeal.
Manuela Comodi, a prosecutor in the current case, told Italy's ANSA news agency that if Knox and Sollecito's appeal was successful, the authorities would challenge the decision in the Court of Cassation, the country's highest criminal court.