German pair to face Old Bailey terror trial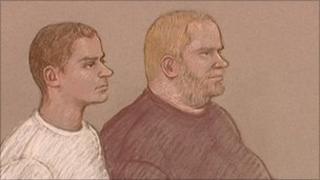 Two German nationals have appeared at the Old Bailey accused of having terrorist materials.
Christian Emde, 28, and Robert Baum, 23, both Muslim converts, were arrested in July entering the UK at Dover port.
They were charged with having material which could be of use in terrorism on a computer and a hard-drive.
They are due to reappear in court in December to enter a plea, and were remanded in custody to face trial in February next year.
Mr Emde was further charged with four similar offences under the Terrorism Act involving articles with titles such as "Destroying buildings" and "Make a bomb in the kitchen of your mom".
Neither Mr Emde, of Konrad Adenauer Strasse, Solingen, Germany, nor Mr Baum, of Peter-Rasspe Strasse, Solingen, stood for the judge at the Old Bailey.