Amanda Knox is 'witch of deception' says Lumumba lawyer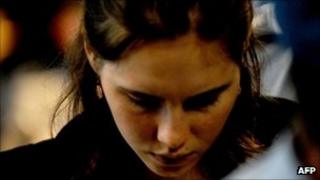 A lawyer has described Amanda Knox, who is appealing over the murder of Briton Meredith Kercher, as "diabolical" and "a witch of deception".
Carlo Pacelli is representing Patrick Lumumba, a barman seeking damages from Knox as part of a civil case which forms part of her murder appeal.
Knox, an American, and Italian Raffaele Sollecito were found guilty in 2009 of killing the exchange student in Italy.
They deny any wrongdoing and are appealing against their convictions.
During the initial investigations, Knox had accused Mr Lumumba of killing Ms Kercher, 21, of Coulsdon, south London, who shared her apartment in Perugia at the time of her death.
As a result, Mr Lumumba was briefly detained but was later cleared. He is now suing Knox for defamation.
Knox has previously said that she made the statement incriminating Lumumba under pressure, after being struck by a police officer and forced to speak without a lawyer or translator present.
'Second victim'
Speaking on Monday during the convicted pair's appeal trial, Mr Pacelli said the 24-year old Knox "has a double-faced soul" with a split personality.
One side is "angelic, good, compassionate, and in some ways even saintly", but the other side is "Lucifer-like, demonic, satanic, diabolic" and "longs to live out borderline extreme behaviour", he said.
"She is both one and the other. This is the Amanda of 1 November, 2007," he added, referring to the night Ms Kercher's body was found.
Mr Pacelli also said: "Who is Amanda Knox? Is she the mild-looking, fresh-faced person you see here, or the one devoted to lust, drugs and alcohol that emerges from the court documents?"
And he went on to say that his client is the "second victim" of the crime.
The court will hear closing arguments from the Kercher family's lawyer and the defence on Thursday. Knox and Sollecito, who are former lovers, were jailed for 26 years and 25 years respectively.
They have spent almost a year appealing against their convictions and are expecting to learn whether they will walk free by early October.
A third person - Rudy Guede, 21 - was also convicted of Miss Kercher's murder in a separate trial and is serving a 16-year term.