Baroness Margaret Thatcher attends Liam Fox's party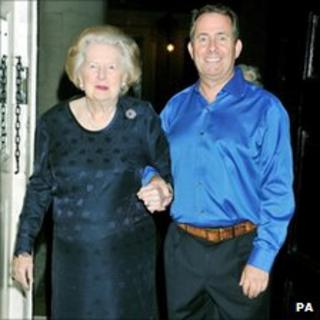 Former Prime Minister Margaret Thatcher has made a rare public appearance, attending a party to mark Defence Secretary Liam Fox's 50th birthday.
Baroness Thatcher - premier from 1979 to 1990 - joined guests including David Cameron at Mr Fox's London apartment.
The defence secretary said: "It was a pleasure to have two prime ministers at my 50th birthday party this evening."
Poor health had prevented Lady Thatcher from attending a party at No 10 to mark her 85th birthday last year.
The former Conservative prime minister had been one of the first guests to visit Downing Street after Mr Cameron took over the premiership from Labour's Gordon Brown in May 2010.
Mr Brown also hosted her in Downing Street after taking office in 2007.
In 2005, doctors advised Lady Thatcher that she should not make public speeches in the wake of some minor strokes.
But she still attends some public functions, including an address by the Pope during his state visit to the UK a year ago.