UBS trader Kweku Adoboli 'sorry beyond words'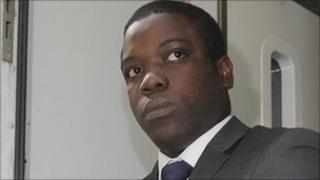 A man accused of unauthorised trading that lost Swiss bank UBS about £1.5bn ($2.3bn) has told a court he is "sorry beyond words".
Kweku Adoboli will face a second count of fraud in addition to two charges of false accounting over three years, City of London Magistrates' Court heard.
The City of London-based trader was remanded in custody until 20 October.
Mr Adoboli, 31, worked for UBS's global synthetic equities division, buying and selling exchange traded funds.
These track different types of stocks or commodities such as precious metals.
Prosecutors say Mr Adoboli "dishonestly abused that position intending thereby to make a gain for yourself, causing losses to UBS or to expose UBS to risk of loss".
Mr Adoboli, from east London, made no application for bail and gave no indication of how he would plead when he appeared in court on Thursday.
His lawyer, Patrick Gibbs, said Mr Adoboli was "sorry beyond words for what had happened".
"He went to UBS and told them what he had done, and stands now appalled at the scale of the consequences of his disastrous miscalculations," he said.
The primary fraud offence is alleged to have taken place between 1 January and 14 September this year.
Prosecutor David Levy told the court that the new, second, fraud offence allegedly took place between 1 October 2008 and 31 December 2010.
UBS has said Mr Adoboli conducted legitimate derivative transactions, giving the bank heavy exposure to various stock market indexes.
It has accused him of then entering "fictitious" hedges against these positions into UBS's risk management system, while in reality he had no hedge in place and was breaching the risk limits that the bank required him to work within.
After the 10-minute hearing, Alison Gowman, the chief magistrate, said the trader would appear at the same court on 20 October for a committal hearing.
Mr Adoboli's first appearance before magistrates was on 16 September.